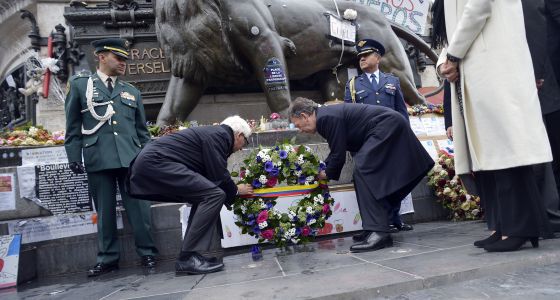 Colombia has become embroiled in a heated debate after President Juan Manuel Santos announced the possible creation of a rural police force similar to the French gendarmerie if the government signs a peace agreement with the Revolutionary Armed Forces of Colombia (FARC).

The idea, Santos said, was to consolidate security in the regions most affected by the internal armed conflict, and he did not rule out the participation of demobilized ex-guerrilla members in that force.

Santos' initial proposal did not mention the FARC, but when a journalist asked him about the possibility, the president thought about it and replied: "I hadn't thought about that, but I would not rule it out. We could very well negotiate something like that with the other party [FARC]," he told the press in Paris after meeting with French President François Hollande during an official visit to the country.
Considering how Santos wants unelected FARC in Congress, it's no surprise that many were outraged, among then Uribe,
"Santos has destroyed the self-esteem and initiative of law enforcement, and now he finishes them off by announcing the creation of terrorist police forces"
Santos acabó con auto estima e iniciativa de la Fuerza Pública Y los remata anunciando policías del terrorismo

— Álvaro Uribe Vélez (@AlvaroUribeVel) January 27, 2015
Let's hope Santos was only talking off the top of his head.
The Santos administration talks with the FARC will resume on February 4 in Havana.