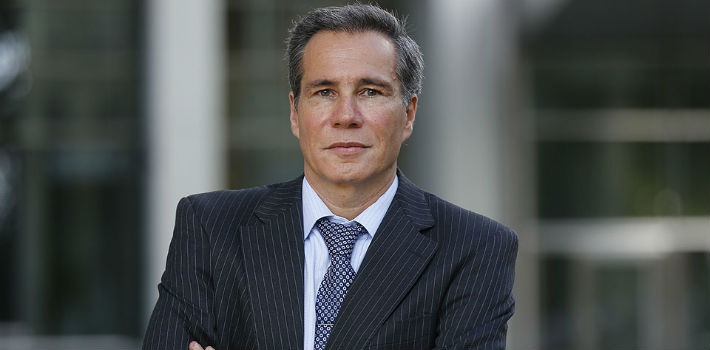 No traces of gunpowder on his hands
Gun was not his
Apparently none of the ten security officers assigned to protect Nisman was stationed on the thirteenth floor of the apartment building on which he lived
Theory of "induced suicide"
Minister for State Security on the scene before police investigating authorities
Ariel Lijo, the Argentinian judge who received Nisman's 300 page complaint alleging the involvement of President Cristina ​Fernández de Kirchner and others in covering up Iran's culpability for the 1994 bombing of the AMIA, ordered the seizure of all documentation and other evidence referred to in the complaint
Left shopping list for his housekeeper
Following the outpour of outraged citizens in Buenos Aires and the country, the government has issued more information:
Spain's El País reports (link in Spanish) that forensic tests showed no traces of gunpowder on Alberto Nisman's hands.
The prosecutor in charge of the case, Viviana Fein, explains it as, "Coming from a small caliber weapon, 22 caliber, usually that causes that electronic sweeps show no results." The weapon had no silencer.
Fein had previously revealed that the gun that shot the bullet in Nisman's brain was not his, although he owned and had permits for two firearms; additionally,
Fein said she would not rule out the possibility that Nisman was "induced" to suicide.
Which, of course, opens innumerable spin opportunities for the government propaganda machine.
The AP suggests that none of the ten security officers assigned to protect Nisman was stationed on the thirteenth floor of the apartment building on which he lived.
The time of death appears to have been in the mid-afternoon, while none of his bodyguards were present.
Fein also had Nisman's office raided today.
Timeline: The Events Leading to Alberto Nisman's Death
Now Nisman is dead meaning that Kirchner and Iran can rest a lot easier. Are we to believe that his death is really a suicide, as the Argentinian government claimed today?
At the protest in Buenos Aires a sign reads "you can't 'suicide' us all" (photo via @PetriAdriana) #Nisman pic.twitter.com/4XnNYU4Inj

— Conz Preti (@conz) January 20, 2015
Related:
Argentine prosecutor's death: The latest act in the Iran-Israel saga
Alberto Nisman was the Argentine prosecutor investigating Iran's hand in the 1992 and 1994 bombings of Jewish targets; Imad Mughneiyeh, father of the Hezbollah commander killed in Syria on Sunday, was suspected of organizing the Argentina attack.
UPDATE:
Floor plan,
Nisman lived in Apartment 4 (shaded in green, bottom left).
The plot thickens: The government Secretary for Security was on the scene before the investigating authorities (including Fein and the coroner's office).
Alberto Nisman Death: Judge Seizes Evidence, Initial Autopsy Findings Released (h/t David Gertsman).
"A suspicious death:" John Batchelor talked about Nisman in last night's show.
UPDATE 2,
Nisman left a shopping list for his housekeeper.