Of the eight disputed seats, the Justices will prevent the four deputies from Amazonas state from taking office: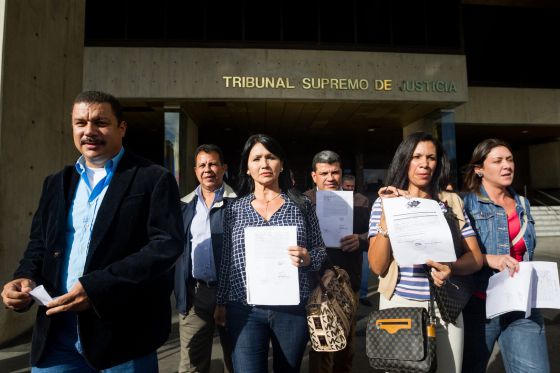 Venezuelan Supreme Court admits Maduro's election challenges
Justices stop four assembly members from taking their seats while it examines cases
Opposition says all of its deputies will be on hand when it takes control of house next week
Government candidates who lost in the races filed election challenges in six election districts with the Supreme Court, alleging voting irregularities. The government alleged that votes were bought by the opposition in Amazonas, a poor state with a small population in the south of the country.
More at the WSJ:
The court has come under harsh criticism from analysts and rights groups since the lame duck parliament last week appointed 13 Socialist party loyalists as magistrates before lawmakers' terms ended. Venezuelan legal experts said Socialist legislators violated constitutional norms by naming party allies as judges and by rushing through the appointment process in two days of marathon assembly sessions that opposition lawmakers largely boycotted and deemed illegitimate.

. . .

Posted on its website, the Supreme Court's statement didn't specify on what grounds it acted against the lawmakers from Amazonas. While the court had received requests for injunctions on nine legislative seats won by the opposition, the court only ordered a halt on three of them. The six others will be able to participate in the inauguration next week, though their cases will still be subject to a judicial review.
It affects all three deputies from Amazonas state, and the indigenous deputy from the Southern Region, which also includes Apure state.
. . .
Opposition-linked legal scholar José Ignacio Hernández suggests MUD is fully justified in simply ignoring the ruling
Hernández posits a matter of jurisdiction:
that once officially proclaimed, seats cannot not be withdrawn, and,
that only the National Assembly can qualify its members, not the Supreme Court acting retroactively.
Developing . . .