Alan Gross, the American political prisoner held by the Communist Cuban regime for five years, has been released.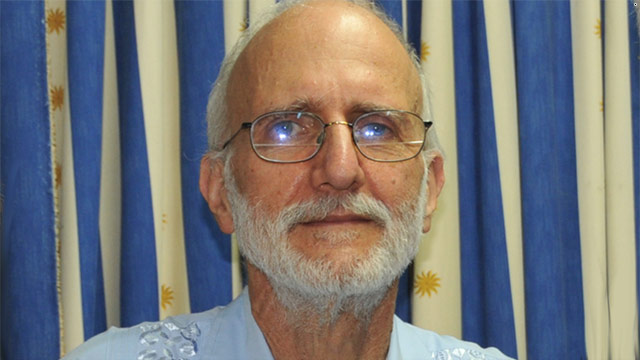 As I have written before,
In December 2009, Alan P. Gross was arrested while in Cuba working as a U.S. government subcontractor for the U.S. Agency for International Development (USAID) for bringing satellite phones and computer equipment to members of Cuba's small Jewish community. He was held in jail, and, in March, 2011 was convicted for "acts against the independence or the territorial integrity of the state".

What does "acts against the independence or the territorial integrity of the state" means? It means that, in Cuba, attempting to provide access to the internet is a crime.
American Alan Gross Released From Cuba After 5 Years in Prison
Gross Is Headed to U.S. on Government Plane, Obama Administration Official Says
Administration officials have said that his captivity has precluded any modification in U.S.-Cuban relations, so his release could clear the way for discussions about a broader deal. President Barack Obama is expected to make a statement about Cuba from the White House at noon on Wednesday.
I fully expect Obama to declare an end to the embargo before year's end. Will that be his "statement about Cuba from the White House at noon"?
UPDATE 10AM:
The remaining three of the Cuban Five were released in exchange: The Miami Herald (emphasis added),
The Cuban government had linked Gross's release to the imprisonment of five Cubans convicted in 2001 of infiltrating South Florida military installations and spying on the exile community. The men, considered heroes in Cuba, were convicted in 2001 in Miami on charges including conspiracy and failure to register as foreign agents in the U.S.
The administration had repeatedly ruled out a swap, saying the USAID subcontractor wasn't a spy and can't be part of a spy-for-spy swap. But news reports Wednesday indicate that three Cubans were released in exchange for Gross. The other two of the so-called Cuban Five were previously released after completing their sentences.
This is a major setback for the opposition and dissident movements in Cuba. The Obama administration, by making this "deal", has confirmed that they are OK with the repression, brutality, incarceration, and murder the castro regime foists upon the opposition. And I will once again say what I have been saying since day one of this farce of a presidential administration, for the record: faced with the fact that he is, by far, the worst President this nation has ever seen, and with no true positive legacy, Obama is relying on the low hanging fruit of the Cuban embargo to placate the left. Look for President Executive Action to undermine codified US Cuba policy.
Get ready. This is going to be one hell of a day.
Read also my post at Da Tech Guy Blog.
UPDATE 11AM:
"Normalizing" U.S.-Cuba relations means giving the Communist Cuban government a lifeline, at a particularly critical time, now that its sugar daddy Venezuela nears economic collapse as oil prices drop. Marco Rubio:
"This is going to do absolutely nothing to further human rights and democracy in Cuba," Rubio said in an interview. "But it potentially goes a long way in providing the economic lift that the Castro regime needs to become permanent fixtures in Cuba for generations to come."
Guardian Washington bureau chief Dan Roberts,
Cuba backstory: deal brokered last spring with secret meetings in Canada & Vatican after pressure from Pope. Obama sealed w/ 45min call Tues

— Dan Roberts (@RobertsDan) December 17, 2014
UPDATE 11:25AM
CBS News affiliate in Miami stated Gross will not be with Obama at the WH press conference.
UPDATE 11:30
Betrayal: Vatican Brokered Secret U.S.-Cuba Talks
Pope Francis and the Vatican played a significant role in reopening diplomatic relations between Cuba and the U.S. The Vatican not only hosted in-person meetings between Cuban and U.S. officials, but actively played a role in the discussions, according to senior Obama administration officials. The meeting to finalize the reopening of relations was also held at the Vatican this past fall. The Vatican sent a personal letter to President Obama regarding Cuban relations. "We haven't received communications from the Pope of this nature," said a senior adminstration official. "That gave us greater impetus and momentum."
This prisoner swap sends a signal to rogue regimes and actors that taking an American hostage can be leveraged into scoring policy concessions. This makes America less safe and emboldens the dictatorship in Cuba.
UPDATE 11:53
The United States will restore full diplomatic relations with Cuba and open an embassy in Havana
In a deal negotiated during 18 months of secret talks hosted largely by Canada and encouraged by Pope Francis, who hosted a final meeting at the Vatican, President Obama and President Raúl Castro of Cuba agreed in a telephone call to put aside decades of hostility to find a new relationship between the United States and the island nation just 90 minutes off the American coast.
Congress need not be consulted?
UPDATE 11:59AM
Is Cuba easing its embargo on American products and American travel?
12 noon:
Cuba no longer listed as state sponsor of terrorism.
UPDATE 12:16
Obama claims "Todos somos Americanos" – "we're all Americans". Not at all.
UPDATE 12:30PM
I was wondering, is Cuba easing Cuba's embargo on American products and American travel? Will they not continue to shelter FARC & other known terrorists? Nothing on that in O's speech.
Not in Raul Castro's speech, either,
Castro said that he had spoken to Secretary Kerry about normalizing relations between the two country, adding that President Obama's decision deserved "respect and gratitude." He also thanked the Vatican, Pope Francis and Canada for their support in the process.

But he stressed there was still much work to be done: the US economic blockade remains in place, he said, causing "enormous damage to our people. It must end."

Acknowledging that the blockade is established in law, Castro said that president Obama could modify its application, and he called on the US government to adopt measures which will benefit both countries.

"Recognizing that we have many fundamental differences on the subjects of national soveignty, democracy, human rights and foreign policy, we reaffirm our willingness discuss all of these subjects."

Castro called on the US government to remove the obstacles between the countries, dividing families – specifically he called for the re-establishment of direct flights, postal deliveries and telecommunications.

"The progress we have already made shows that it is possible to find solutions to our problems," he said.
Another question:
How is Obama going to prevent Cuba's possible role in bypassing sanctions on Venezuela, Russia and Iran?
UPDATE 2PM
Alan Gross on TV thanking all who helped in the effort to release him.
CODA:
As Val Prieto put it, "and from the here's a swift kick in the nuts department…."
Alan Gross returns to the United States, is greeted by an image of Che Guevara
Alan Gross, w atty Scott Gilbert & spokeswoman Jill Zuckman, prepping remarks to deliver after arriving in US…#Cuba pic.twitter.com/8Od6G54jc6

— Stephen Crowley (@Stcrow) December 17, 2014
LINKED TO
by
Memeorandum.
Pirate's Cove. Thanks!
Hot Air. Thanks!
American Patriot. Thanks!
Right Wing News. Thanks!