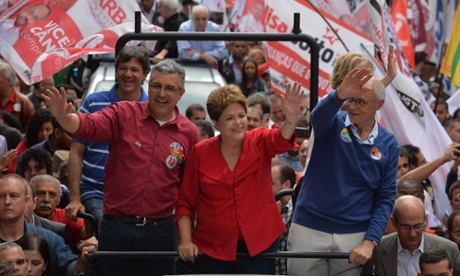 The Economist reports on Pre-election spending in Brazil
A final splurge
The primary deficit (before interest payments) reached 14.4 billion reais ($5.9 billion) in that month, the fourth in a row in which the government has failed to put aside cash to pay creditors. The consolidated primary surplus in the eight months to August stood at just 0.3% of GDP. Most of that came from the states; the central government managed just 1.5 billion reais, a piffling 0.05% of GDP and the worst result for the period since 1998. The overall budget deficit climbed to 4% of output, the highest level since Ms Rousseff's predecessor and mentor, Luiz Inácio Lula da Silva, embarked on a huge stimulus package in 2009, as the global financial crisis took hold.
In turn,
On September 30th the ratings agency told an investors' conference in São Paulo that it will refrain from re-appraising Brazil's credit risk until 2016, once it becomes apparent what the next government is doing to tackle weak growth (which will average just 1.5-1.7% a year during Ms Rousseff's four years in power), and a wonky budget.

On paper, Marina Silva, candidate of the centrist Brazilian Socialist party, promises a more responsible fiscal policy. So does Aécio Neves of the Party of Brazilian Social Democracy, the most market-friendly of the main contenders.
The odds odds Neves winning are slim-to-none. Silva is getting a lot of media attention, particularly in foreign media outlets, but Dilma will most likely win, as a commenter points out,
Perhaps you`re right, and that awful woman will be reelected. But not only because she has a "huge… and well funded political machine". She also has absolutely no scruples whatsoever about lying, scheming and – most importantly – putting the gigantic State machine to work full-time for her campaign. Disgraceful. Worse times ahead for us Brazilians.