to "demand justice" for illegal aliens, that is, the aliens who enter and remain in the U.S> in defiance of U.S. laws; aliens who do that in Mexico get an altogether different brand of "justice."
Of course Jerry Brown joined in,
Brown signed a bill into law last year that will enable migrants to get driver's licenses next year. He said he got the message after a visit to a Monterey artichoke field where the workers yelled "licencia, licencia."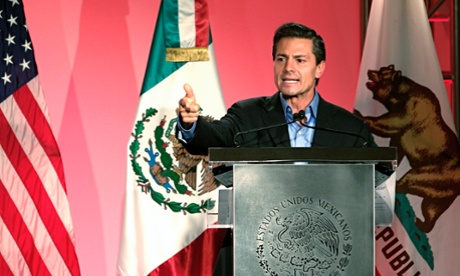 No word as to whether Brown "demanded justice" for Marine Sgt. Andrew Tahmooressi, who has been in jail – while being jerked around by the Mexican authorities – in Mexico since late March when he accidentally drove into the country with three legally purchased firearms after he made a wrong turn. Peña Nieto's in Sacramento today, where a rally in support of Tahmooressi is taking place right now,
Organized by Assemblyman Tim Donnelly (R-San Bernardino), the rally is set for 9:30 a.m. to 1:30 p.m. outside the Leland Stanford Governor's Mansion Museum.