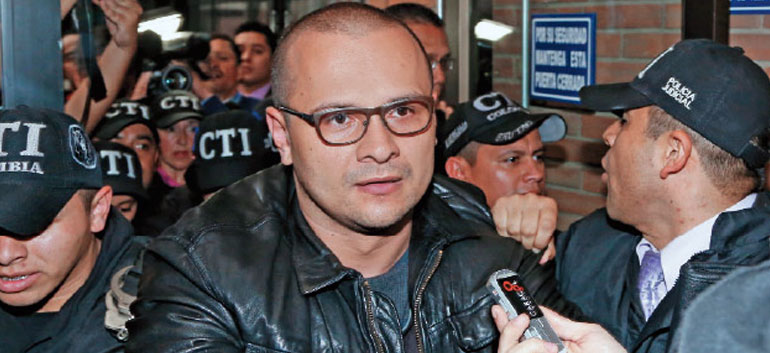 Latest headlines in Colombia,
Detained Colombia hacker outlines alleged political plot against peace process
Andrés Sepúlveda, an alleged computer hacker who was detained in May, says political rivals of President Santos were using classified information to derail Colombia's peace process.
The FARC certainly has been doing enough derailing on its part, but here's the story at hand: President Santos ordered authorities to conduct a thorough investigation
The reaction comes after Andrés Sepúlveda, an alleged hacker who has been in custody since May, told Semana in a jailhouse interview that he had been hired by Uribe's Centro Democrático party to help undermine the talks and support the presidential bid of the party's candidate Oscar Iván Zuluaga.

In the interview, Sepúlveda said he was ordered to use his skills to turn the armed forces and public opinion against the peace process with the Revolutionary Armed Forces of Colombia (FARC) guerrillas in Havana. To do that, he said he purchased classified information from military intelligence and other groups that he fed to party officials.
So what was it? Did Sepúlveda actually hacked, or was he buying information? If he was buying information "from military intelligence," why the need to turn the armed forces against the FARC negotiations?
Here comes the more interesting part,
Sepúlveda said that he provided members of Zuluaga's campaign information about the FARC's negotiating team, including private emails. But he said the Centro Democrático party was also receiving classified information gleaned from the hacked communications of government negotiators in Cuba.
Considering how Santos has thrown the towel and wants the FARC in congress without being elected, that information should be released to the public.
The discovery of Sepulveda's spy operation came three months after Semana exposed a covert military intelligence scheme to monitor both government and FARC representatives to the peace talks in Havana as well as journalists covering the negotiations.
However, Sepúlveda alleges that he hacked the military, a whole different thing altogether.
Other reports say that
Sepulveda claims to have bought information from the military's "Andromeda" intelligence program, a CIA-funded covert wiretapping operation exposed earlier this year and also accused of spying on the peace talks.
Buying information is the old-fashioned George Smiley way; not hacking.
Sepulveda's brother has testified that the alleged hacker is "receiving pressure" from "high officials" of the Prosecutor General's Office to speak out against "certain individuals," a claim that has also been issued publicly by Sepulveda's wife.
To answer the question, was Colombian military intelligence hacked?, Sean Mullholand, Brigadier General of the US Southern Command, has asserted a definite no, insisting that there is no chance it was hacked.
On his part, Santos claims, "what existed and exists is a criminal enterprise," which really leaves no room for the benefit of the doubt.
Álvaro Uribe is striking back, and hard,
Santo's hacker advisor always: in campaigns, in infamies, and in smokescreen to hide the drug traffic campaign money
Hacker siempre asesor de Santos: en campañas, en infamias y en cortina de humo para tapar dinero del narcotráfico a la campaña

— Álvaro Uribe Vélez (@AlvaroUribeVel) August 26, 2014
Santos also has released his agenda for the day he allegedly met the hacker,
2. Fuente: Fuerza Pública, seguridad: agenda para reunirme con el hacker? pic.twitter.com/uQjB1I6oec

— Álvaro Uribe Vélez (@AlvaroUribeVel) August 26, 2014
Let's not forget that Uribe accused Santos Santos of electoral fraud, buying votes, and allowing the FARC to intimidate voters to obtain re-election.
As Drudge says, developing.