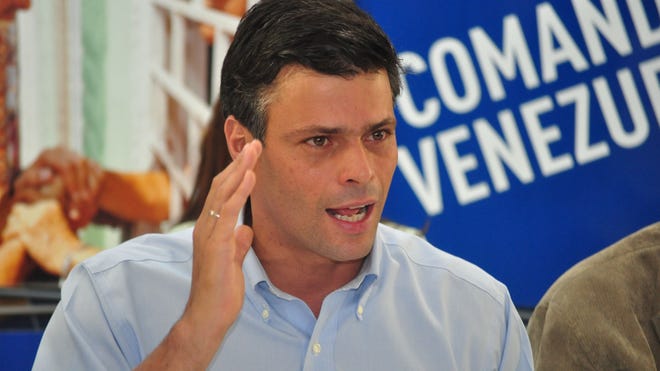 Leopoldo López's show trial has begun; while the defense has asked for an adjournment, we all know what the verdict will be: guilty.
Daniel Duquenal expands on this,
The first thing, oddly, is the timing.  Since Lopez arrest 5 months ago and the alleged clear evidence one wonders why did it take so long for the regime to start the trial. Waiting for the end of guarimbas? A trial can restart them at any time. Waiting for folks to go on vacation? There are no flights out!  Expecting for scarcity problems to soften? They are not and will not for the foreseeable future. The answer is elsewhere,with the PSUV congress about to open. Some red meat thrown to the radical wing. Period, IMHO.

Another thing to wonder comes by asking the reverse question: why bother trying Lopez anyway? International pressure plays a role here, but not necessarily the way you may think. Sure enough there has been plenty of publications, the Washington Post for one pushing up the subject of Lopez dismal jail conditions. But the real deal brokers may be the people trying to organize Venezuela's financial rescue.
Without a doubt, this is a show trial: Daniel concludes his post,
In case you still do not get it, the trial starts with 138 "witnesses" for the prosecution and only 1, ONE, for the defense
In other Venezuelan news, the infamous Tower of David, Caracas's high-rise to nowhere, is being evacuated. Caracas Chronicles says the Chinese are involved:
Thanks to Kepler, we can somehow confirm that our Chinese overlords are indeed taking the building. In this article from the website Archidead, looks like the Bank of China will turn "La Torre de David" as its South American HQ.
It's going to be interesting to see what exactly the Chinese get from this, considering the ruinous state of Venezuela's oil industry.
Maybe Homeland will do a follow-up episode on the "new", Chinese, tower.