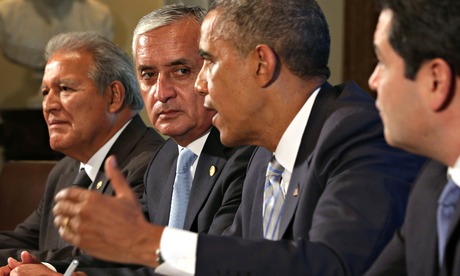 Aftermath of Obama's yesterday meeting:
Guatemalan president: Central America needs at least $2 billion 'to attack the root of the problem'
As it is, Guatemala, El Salvador and Honduras received US$163 million:
In 2013, Mexico received $265 million in foreign aid, Guatemala received $84 million, Honduras secured $52 million, and El Salvador got $27 million, according to ForeignAssistance.gov, a U.S. government site.
So Guatemalan President Otto Perez Molina wants a tenfold increase in aid.
Meanwhile his buddy, Honduran President Juan Orlando Hernández wasted no time in blaming the U.S. for his country's ills, "our neighbor isn't doing its part."
The Guardian headline says it all: Central American leaders meet Barack Obama to criticise US border policy
—————————————
In today's headlines at Drudge,
And yes, you read it correctly, Obama's executive amnesty could include three, four, maybe five million people. But don't worry, Mark Zuckerberg Pushes Amnesty Letter-Writing Campaign, because, hope and change, whatever.
UPDATE:
Linked to by Pirate's Cove. Thank you!