It took Eduardo Galeano 44 years to figure out his own book was boring, poorly written bs; it took me 20 minutes. Years later, Hugo Chavez gifted it to Obama,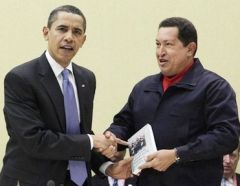 "The open veins of Latin America" is a boring undocumented book, admits his author
Uruguayan author Eduardo Galeano said in an interview published on the Argentine newspaper Perfil.com that he considers his 1971 book "The Open Veins of Latin America", by far his best-known work, to be so bad he will no longer read from it during public appearances.
The book and Galeano are frequently quoted in songs, films and books, and since the 1997 edition has a prologue from the Chilean author Isabel Allende. Galeano, whose real birth name is Eduardo Hughes Galeano (in Spanish first name is father's and second mother's), and now a comfortable board member of pharmaceutical labs in Uruguay, thus joins a list of Latin American left wing intellectuals who after having influenced with ideology whole generations don't feel comfortable with some of their most emblematic works.
But fear not, Latin American Studies programs will continue to have it in their curricula.
And, while I appreciate your buying through my blog's Amazon links, don't bother buying The Open Veins of Latin America. Read this instead.