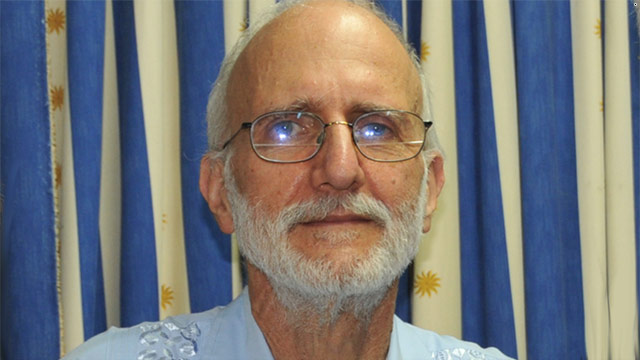 Very bad news:
Alan P. Gross, the American who's been in prison for over four years, has started a hunger strike.
Gross, 63, had already lost over 100lbs and has a large lump growing on his back, which under the "excellent free healthcare" Cubans endure are considered "chronic illnesses that are typical of his age." He said in a statement (h/t Babalu)
that he was frustrated by the continued lack of effort by the U.S. government to orchestrate his release.

"I am fasting to object to mistruths, deceptions, and inaction by both governments, not only regarding their shared responsibility for my arbitrary detention, but also because of the lack of any reasonable or valid effort to resolve this shameful ordeal," Gross said in a statement released by his attorney. "Once again, I am calling on President Obama to get personally involved in ending this stand-off so that I can return home to my wife and daughters."
In practical terms, the Cuban government is holding Gross hostage over the release of the Cuban Five, men convicted in federal court on espionage charges. Two of the men have been released from prison and returned to Cuba.
Sen. Bob Menendez, Chairman of the Senate Foreign Relations Committee, spoke about Gross on the Senate floor,
"And the clock is ticking for Alan Gross. On December 4th, 2009, Alan Gross, a private sub-contractor for the U.S. government, working to bring information to the Cuban people, was arrested in Cuba. Mr. Gross is a 64-year old development professional who worked in dozens of countries around the world with programs to help people get access to basic information.

"Since 2009, he has been detained in Villa Marista – a prison in Havana notorious for its treatment of political prisoners by the Cuban National Security Agency. This is not a minimum security prison where foreigners are routinely held. It is a harsh, repressive prison –reserved for Cuban dissidents.

"He is still being held at Villa Marista, and so I come to the floor to urge my colleagues – indeed, to urge the Administration – to do all it can to free Mr. Gross, and keep pressure on the Castro regime.

"After serving four years of a 15 year sentence, this 64 year old American's mental health is reported to be deteriorating and his life may well be in danger.

"The case of Alan Gross is only one example of why we cannot let up until the dead weight of this oppressive regime is lifted – once and for all — from the backs of 11 million Cubans living on that island nation, isolated from the world."
Gross' situation is desperate.
Related:
A Cuban immigrant to Ecuador attempted suicide when denied entry.
UPDATE:
Linked to by Babalu. Thank you!