Cuba and Venezuela's disproportionate relationship: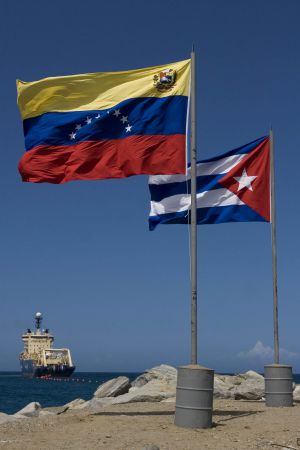 Cristina Marcado of Spain's ABC.es writes about the disproportionate relationship in Las relaciones desmedidas (article in Spanish – my translation):
It all started with 29 agents who arrived in 1997 to help Hugo Chávez 
Now thousands of Cubans work and control Venezuela's public administration
Thousands of Cubans currently work in Venezuela's public administration. In the presidency, ministries and state enterprises. As bureaucrats, doctors, nurses, dentists, scientists, teachers, programmers, analysts, farm technicians, electricians, laborers, and cultural collaborators. Also in security, intelligence, and, including, the Armed Forces.

Most of them also belong to the militia. "In Venezuela we have over 30,000 Cuban cederristas from the 8.6 million members of our organization," Juan José Rabilero, then-chief of Cuba's Committees for the Defense of the Revolution [Comités de Defensa de la Revolución, or CDR, from which the word for its members, cederristas, originates] disclosed in 2007 during a public event in the state of Táchira, in western Venezuela. There is no reason to believe this number has decreased. Nearly 70% of Cuba's population belongs to this system of vigilance and denunciation.

The Cubans manage Venezuela's ID system, its identity cards and passports; its mercantile registries and oublic notaries. They also know who owns what properties and what transactions they conduct. They also jointly manage its ports and maintain a presence at the airports and immigration control, where they do as they please. The Cuban organization Albet, SA, of the Universidad de Ciencias Informáticas (Information Sciences University, or UCI), which manages the systems for the SAIME (which translates to Management Service for Identification, Immigration and Foreigners), is so powerful that it does not allow Venezuelans access to the top floor of SAIME headquarters in Caracas. The computer systems for the presidency, ministries, social services, police, and state oil company PDVSA are also Cuban, run by the Guardián del Alba joint venture.
The name of the article, Las relaciones desmedidas (Disproportionate Relations) refers to the ban on friendships with Venezuelans.
This is a must-read.
UPDATE:
Linked to by Extrano's Alley and Babalu. Thank you!
UPDATE 2:
Capitol Hill Cubans translated also,
According to the latest official figures, in mid-2012, in Venezuela there were a total of 44,804 collaborators in so-called social missions; 31,700 in health care (11,000 doctors, 4,931 nurses, 2,713 dentists, 1,245 optometrists and 11,544 non-specified), 6,225 in sports, 1,905 in culture, 735 in agricultural activities, 486 in education and 54 in handicapped services. Yet, it is believed the actual numbers could be double. There are no officials statistics regarding those who work in the electricity sector, construction, information technology and security advisers to the government, among others.

"The Cuban doctors are sent in a form of modern slavery," according to the NGO, Solidarity Without Frontiers.

Retired General Antonio Rivero, a former Chavez collaborator, assures that there are currently more than 100,000 Cubans in Venezuela, among them 3,700 in the intelligence services, the G2. "Just in security and defense, we estimate there are around 5,600 of them." And he confirms that there are Cubans in the most important military bases in the country. "In the Armed Forces, there are some 500 active Cuban military officers serving as advisers in strategic areas, such as intelligence, weaponry, communications and military engineering. Also, in operations and in the office of the Minister of Defense, which has a permanent Cuban adviser with the rank of General."

According to Rivero, which served chief of communications for the presidency and was the national director of Civil Protection, the presence of Havana goes back to 1997, when 29 undercover Cuban agents established operations in Margarita and in 1998 helped Chavez's electoral campaign with intelligence, security and information technology.