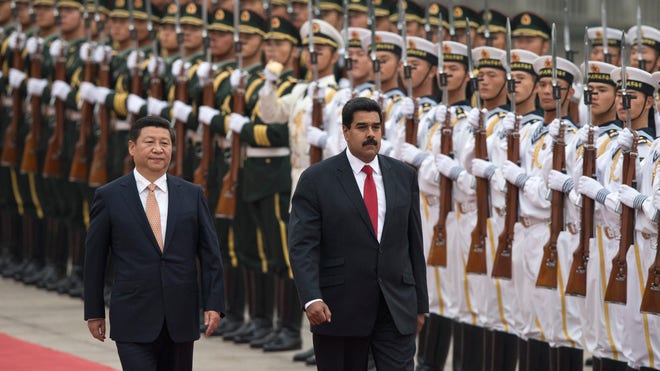 Venezuelan dictator Nicolás Maduro went to China, signing over oil exploration and gold mining rights in exchange for foreign currency,
President Maduro told his Chinese counterpart, Xi Jinping, that the main goal of his trip was to further consolidate and expand the strategic partnership between the two countries that late President Hugo Chávez began with Chinese leaders. Chávez died in March after 14 years in power.

The two leaders signed 12 agreements on Sunday, including ones related to a finance fund deal, education, and a joint development between Chinese state-owned oil producer Sinopec and Venezuela's national oil company. They also signed a cooperation and exchange agreement between China's space flight administration and Venezuela's science and innovation ministry relating to remote satellites. No details were given on any of the agreements.
Venezuela President Nicolas Maduro met with China's President Xi Jinping over the weekend in Beijing and said that China had granted Venezuela another $5 billion credit line
The $5 billion will be invested in the country, through a credit from the China Development Bank (BDC) for the financing of strategic projects in the field of health, science road, transport, technology, industry, electricity and mining, which will improve the quality of life of the Venezuelans.

"With this Bank funding we will develop also the Las Cristinas mine. All for the benefit of our beloved people," wrote Maduro about the long delayed gold mining project.
Maduro tweeted his trip. He also retweeted this, fromForeign Minister Elías Jaua,
El Sistema Integral de Protección Ciudadana (videovigilancia) acordado con China, tendrá su primera aplicación en el Mcpio.Sucre de Miranda!

— Elias Jaua (@JauaMiranda) September 23, 2013
Translation: "The Integrated Citizen Protection System (video surveillance) signed with China will have its first installation in the municipality of Sucre in the state of Miranda!"
It so happens that the governor of Miranda is Henrique Capriles, opposition leader.
Here's looking at you, kid!
More on Maduro's Chinese deal at Caracas Chronicles.