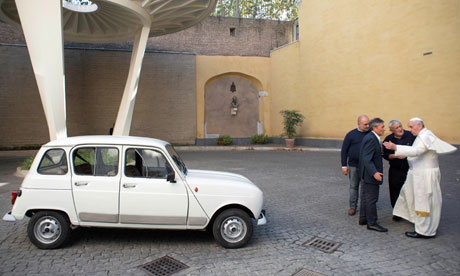 A few days ago an Italian priest gifted Pope Francis a popemobile that is a lot like him: frugal, clad in white and with a fair bit of mileage. The Pope will use it for getting around the Vatican, which tells me a couple of things:
Popes get parking privileges
Francis likes stick shift
The little car looks like fun
He runs his own errands.
Following the news of the Pope's new wheels (which, at 186,000 miles goes beyond "certified pre-owned"), the Buenos Aires-based Argentina Renault 4 Motor Club has granted Pope Francis a lifetime membership, since Pope Francis owned a green Renault 4 back in the day.
Here's a YouTube of the club's loyal fans meeting in the cold rain to show off their "roadrunners", as they call their cars,
I can't wait to see photos of the Pope washing the car when he needs to think.