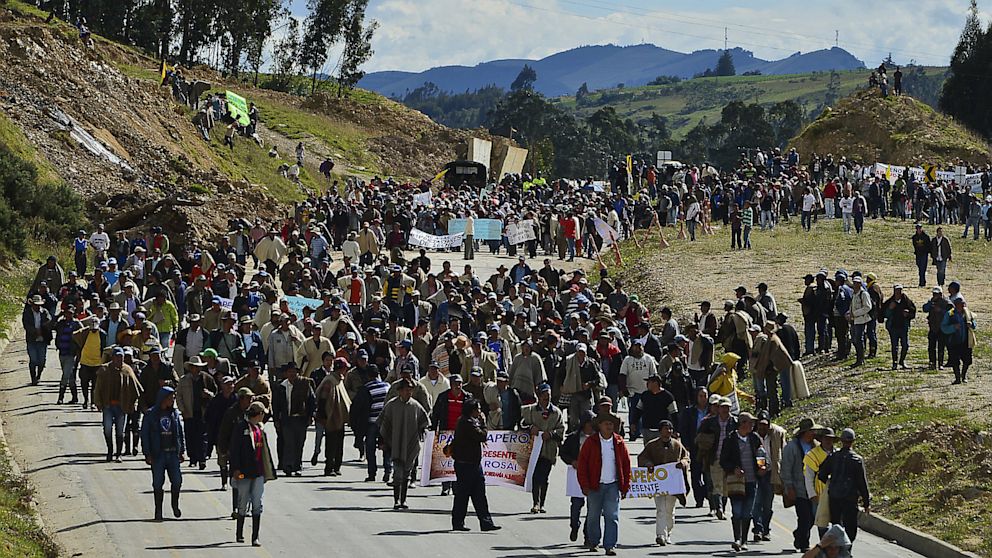 Eight days on, No deal on Colombia farmers' strike after night of talks
Representatives of Colombian farmers' groups and government ministers say they have not yet been able to reach a deal to end a 10-day strike.

The two sides will reconvene on Wednesday after they failed to reach agreement after nine hours of talks.

The protests by livestock, dairy and crop farmers have been paralysing parts of the country.

The demonstrators accuse the government of running the agricultural sector into the ground.
…
On the agenda are the high cost of fertilisers and other key farming materials, and how farmers are being undercut by cheaper imports and agricultural products being smuggled across the border from neighbouring Venezuela and Ecuador.
…
The farmers have been backed by some student and trade union groups which have held demonstrations in the capital Bogota and the city of Cali to show their support.
President Santos's reaction has been puzzling,
As Farmers' Strike Paralyzes Colombia, President Questions Its Existence
The government has responded with calls for composure and accusations of outside manipulation. Since the strike began on Aug 19, President Juan Manuel Santos has tried to minimize the strikers' actions, giving statements that have only served to taunt protesters and bring together union leaders.

"The so-called agrarian strike does not exist," Santos said on Sunday. Acts of violence, the president said, were caused by guerrilla infiltrators – an often-used government claim — who wanted to destabilize the country and hamper dialogues with troubled agrarian sectors. "It's just 10 or 15 people. The situation is under control and problems are being resolved," Santos added.
"10 or 15 people"?
Five people have been killed and hundreds more have been injured in the numerous skirmishes that plague the countryside, according to police reports. Students in public universities have attacked authorities with rocks and homemade bombs. Protesters have burned cars and trucks, and an unknown group in Boyacá, a historically peaceful agrarian state located a few hours north of the nation's capital, reportedly placed a cable line across a road late in the afternoon to kill an unsuspecting motorist that drove by. Red Cross medical missions have been detained at roadblocks, and there have been disturbances in more than half of the nation's states.
Former president Álvaro Uribe harshly criticized Santos (video in Spanish),
Uribe accused Santos of ignoring farmers while favoring the FARC (with which Santos is negotiating). "The government has forgotten to stimulate local industry. . . coordination between [agricultural] producers and manufacturers has been neglected." Uribe didn't stop at that; he asserted that the Santos administration is leading the country to "anarchy towards a path to Castro-Chavismo."