Cristina Fernández, who's up for re-election in October, 2015 but desperately needs a legislative majority, is using a photo of herself and candidate Martín Insaurralde (who she hopes will be her majority leader) taken with Pope Francis: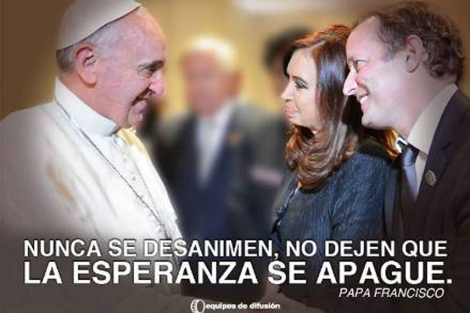 The poster reads, "Don't be downcast; don't let go of hope."
When I was in Buenos aires the week Nestor Kirchner died, leaving Cristina as widow and president, the posters of him and Cristina popped up immediately, on every subway car and station, and on every corner of the city, even in the suburb where I was staying.
Apparently the Pope photo-op is now everywhere. Cristina claims it's not a campaign ad.
The photo was taken last week during the Pope's visit to Brazil, which was a resounding success. Pope Francis was meeting the heads of state that came to Mass.
The Pope, who is hugely popular in Argentina (tango included), was, during his tenure as Cardinal in Buenos Aires, a big critic of the Kirchners, but now, with the poster prominently papering every public surface, Cristina's making look like the Pope's on her side.