In today's upside-down world, just as food rationing starts, the UN Congratulates Venezuela for Reducing Hunger, handing out an excellent photo-op to the new dictator,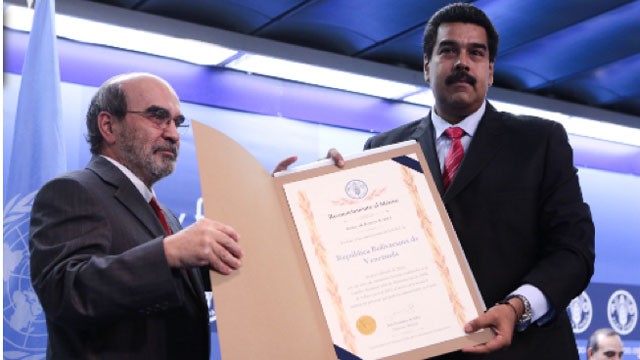 Venezuelan President Nicolas Maduro, poses with FAO director Jose Graziano da Silva. On Sunday, The FAO, aawarded Venezuela a special certificate for reducing hunger by half, despite current food shortages in the South American nation.
Too bad they didn't choose this location at the nearest store,
Maduro set off on a triumphal tour of Europe, stopping in Portugal, Italy, and visiting with the Pope,
just as if he was a legitimately elected head of state.
Over in Venezuela, Venezuela's cardinal says pope should pressure Nicolas Maduro focus on democracy, coexistence, and, To avoid crime, Venezuelans run together.
Wouldn't surprise me at all if Nicolas gets a Nobel Peace Prize before Diosdado gets rid of him.