After Tuesday's shameful assault at the National Assembly, people are trying to identify the man who punched Julio Borges.

Opposition assemblymen Maria Corina Machado and Julio Borges
Nancy Asencio broke Maria Corina Machado's nose in four places; that much is clear.
What's not totally clear is the identity of the man who punched out Borges. Two men have been identified:
Michel Milán Reyes, Cuban who is currently a junior assemblyman in Venezuela while apparently also being president of a municipal assembly in Cuba,
or another man, a Venezuelan named Michael Leeroy Reyes Argote, who was identified in this photo,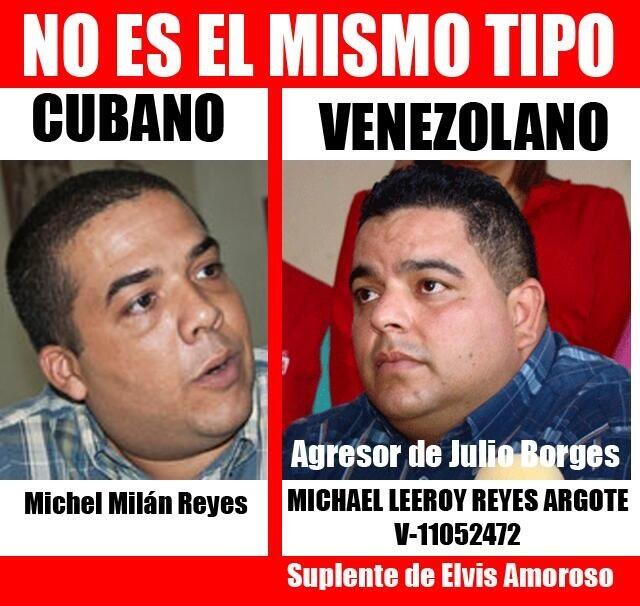 Jaime Bayly named Milán Reyes as the perpetrator in his Tuesday show; the man who assaulted Borges stood behind a Chavista spokesman during the press conference following the altercation (4:05 into the video):
Milán Reyes is the favored suspect on Twitter.
Here's the interesting part:
Nicolás Maduro is president now thanks to the intervention and support of the Cuban Communist regime. His praetorian guard, so to speak, is Cuban.
National Assembly president Diosdado Cabello, who according to the Venezuelan Constitution should have been interim president, has plans. He won't be content with the status quo forever.
If Milán Reyes actually is the perp, Cabello is telegraphing a message to Maduro: "I can get the Cubans on my side, too."
Most observers predict that Maduro's regime will not last long. So here's the question: Who will succeed him, Capriles . . . or Cabello?
UPDATE,
Linked by Babalu. Thank you!