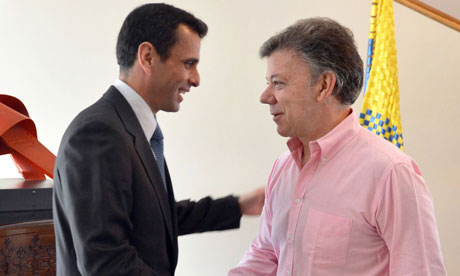 Henrique Capriles to set off the alarms before international bodies
Venezuelan opposition leader Henrique Capriles Wednesday condemned the "non-compliance" with the election audit requested by the opposition alliance and endorsed by the Union of South American Nations (Unasur). He lambasted the steps taken by Venezuelan electoral authorities
"An agreement was reached with Unasur to conduct a (comprehensive) election audit. The audit did not take place. What they (Venezuelan electoral authorities are doing is a farce."
The Maduro regime is furious that Colombia's president Santos met with Capriles,
The Maduro government has vilified Capriles as a "fascist" trying to stir a coup in Venezuela, and powerful Congress head Diosdado Cabello, who is also the No. 2 in the ruling Socialist Party, was the first to complain about the meeting in Bogota.

"Colombia must clarify if the government is with Capriles' coup intentions, or with the people of Venezuela and with the legitimate, sovereign and constitutional government of comrade Nicolas Maduro," Cabello told state media.

"President Santos is putting a bomb in the good relations that President Chavez urged so much … He is receiving a murderer, a fascist right there in his palace."
Considering Venezuela's ever-increasing reliance on Colombia for food, Cabello would do well to measure his words.
As a side news, Santos apparently has been comparing Alvaro Uribe to Caligula. An unwise slip of the tongue, considering how Uribe retired from the presidency with a 75%+ approval rating, but I digress.
Jaime Bayly traveled to Colombia on Tuesday to interview Capriles (videos in Spanish), which aired on MeagaTV and Capriles.tv last night.
Here's the first hour.
Part 1,

Part 2,

Part 3,

Part 4,

Bayly will broadcast the second hour tonight on MegaTV, which posts the Bayly programs on YouTube the following morning. I'll post the YouTubes tomorrow.