Key issues on Obama's Mexico trip: Trade, immigration and drug war.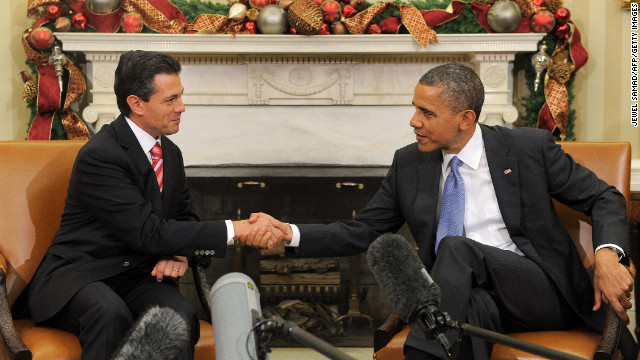 On immigration, Obama
To sell his immigration overhaul back home, he needs a growing economy in Mexico and a Mexican president willing to help him secure the border.
On trade
Border crossing takes so long in large part because of inadequate infrastructure and inadequate staffing for the amount of traffic, she says. It also results from significant bureaucracy – duplicate customs forms and other procedures.

The capacity of the border entry points to clear trade traffic into the USA has not kept pace with the increase in trade in the border region. In addition, the 9/11 attacks in 2001 prompted added security measures, which slow things down and raise expenses for businesses.

Among the ideas to improve commercial traffic are better use of shipper screening programs that allow low-risk shipments and carefully investigated shippers faster access over the border, say analysts, and should be on the agenda of the two presidents.
On drugs, Mexico's Curbs on U.S. Role in Drug Fight Spark Friction
shortly after Mexico's new president, Enrique Peña Nieto, took office in December, American agents got a clear message that the dynamics, with Washington holding the clear upper hand, were about to change.

"So do we get to polygraph you?" one incoming Mexican official asked his American counterparts, alarming United States security officials who consider the vetting of the Mexicans central to tracking down drug kingpins. The Mexican government briefly stopped its vetted officials from cooperating in sensitive investigations. The Americans are waiting to see if Mexico allows polygraphs when assigning new members to units, a senior Obama administration official said.

In another clash, American security officials were recently asked to leave an important intelligence center in Monterrey, where they had worked side by side with an array of Mexican military and police commanders collecting and analyzing tips and intelligence on drug gangs. The Mexicans, scoffing at the notion of Americans' having so much contact with different agencies, questioned the value of the center and made clear that they would put tighter reins on the sharing of drug intelligence.
Peña Nieto's focusing on managing the violence, rather than on confronting the cartels.
Tomorrow Obama will visit Costa Rica, returning to the US on Saturday.