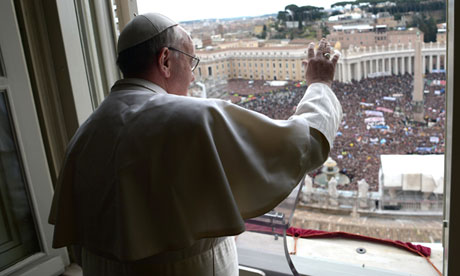 On my BlogHer article last week, I erroneously misquoted ("a champion of liberation theology") Mark Rice-Oxley's statement, which in fact said "A champion of those who rejected liberation theology."
Indeed, as Mary O'Grady explained yesterday,
Father Bergoglio believed that Marxism (and the related "liberation theology") was antithetical to Christianity and refused to embrace it in the 1970s
I did more research on Pope Francis, and found the he rejected Marxist liberation theology while embracing the poor. Then-Archbishop Bergoglio used to take public transportation to Buenos Aires's worst slums (and police no-go zones), and officiated Mass,
sponsored marathons and carpentry classes, consoled single mothers and washed the feet of recovering drug addicts
From the pulpit at the cathedral he sternly criticized the Kirchners and denounced the country's extreme poverty.
I also asked Carlos Eire, T. Lawrason Riggs Professor of History & Religious Studies at Yale University, on the new Pope. His reply,
The way I see it today — which may change as we get more information — his concern for the poor does not at all make him a liberationist socialist. He seems to be taking the same approach as John Paul II and Benedict XVI, who dished out condemnations of the callousness and materialism of Western culture while at the same time condemning the evils of communism.

Their focus is materialism, an attitude that runs against Christian ethics, not capitalism per se. (Liberationists tend to see capitalism itself as evil, and communism as the utopian cure).
Check out also Ed Morrissey's interview of Kishore Jayalaban of the Acton Institute, if you didn't watch it in yesterday's Carnival,
I apologize to all my readers (and to the Pope, too).
In more papal news, his motto will now be
"miserando atque eligendo" (Latin for "because he saw him through the eyes of mercy and chose him"), a phrase taken from a homily by the Venerable Bede, an 8th century English monk, describing Jesus' call to Matthew to follow him.
Very fitting.