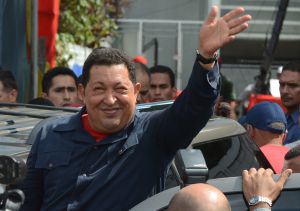 Hugo Chávez – surprising no one – won re-election, and now the international media are wondering for how long will he live:
Le Monde's blog headline flat-out asks, "Will Chávez be able to serve his term?" (link in French). Spain's El País points out (link in Spanish),
The Venezuelan Constitution states that, if the president dies within the first four years of his term, there shall be new elections. If he dies in the last two years of his term, the vice-president can complete the six year period.
Brazil's O Globo (link in Portuguese) does the same.
Looking at the bloated 58 year old president, they have good reason to ask, particularly when compared with the fit 40 year old Capriles.
Capriles, in his press conference immediately after the results were announced, said,
God's timing is perfect, and God's time will arrive.
Video in Spanish,
Until then, it's more Hugo. Tanks on the streets and all.

————————————–
Speaking of timing, a
Che impersonator
was celebrating Hugo's victory;
Forty five years ago this week, Ernesto "Che" Guevara got a major dose of his own medicine.