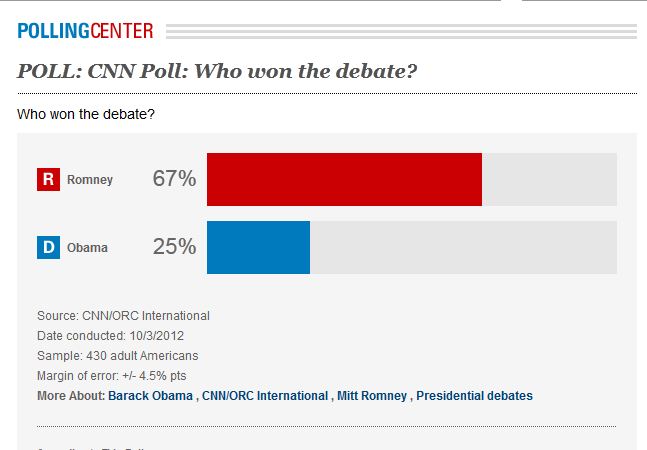 "No presidential candidate has topped 60% in that question since it was first asked in 1984," says CNN Polling Director Keating Holland.
If it had been a prize fight, they'd have called it in the 9th round. Obama was allowed four more minutes than Romney, but had to appeal for help,
Jim, I — you may want to move onto another topic
Shark Tank calls it Obama's "No Mas" debate.
Or perhaps Obama was "that guy at the meeting surreptitiously checking his email".
Exasperated NBC Reporters Whine: Why Didn't Obama Bring Up 47 Percent? (h/t Ed Driscoll). Iowahawk had an explanation,
It doesn't occur to bubble-dwellers that Obama avoided Romney's "47%" comment because it was a winner with normal human beings.

— David Burge (@iowahawkblog) October 4, 2012
But speaking of 47%, Romney made the most of his 47% allotted speaking time
A Smart Politics analysis finds that Mitt Romney spoke for 38 minutes and 14 seconds, or 47.3 percent of the candidate-allotted speaking time – a full four minutes and 26 seconds less than Barack Obama.
I bet most people would have thought that Romney spoke more, because he was more to the point and covered more ground when he spoke.
Chris Matthews was hormonal, ranting "Where was Obama tonight?!?", "What was Romney doing tonight? He was WINNING!",
Pete Ingemi points out,
That's the real dirty secret of this debate, not that there is a different Mitt Romney at the debate then on the campaign trail, but that the Mitt Romney at this debate bears no resemblance to the caricature that the left, the media and the 30 seconds ads have painted.

The Totalitarian Media and Left made the mistake that all totalitarians make, they have heard their own propaganda so often and have lived in their own bubble so long they actually have started to believe their own spin.
My favorite line was,
"Listen, I've been in business for 25 years. I have no idea what you're talking about."
The NYTimes called it a draw, but
That wasn't a debate so much as Mitt Romney just took Obama for a cross country drive strapped to the roof of his car.

— Mark Hemingway (@Heminator) October 4, 2012
Stacy's dreaming of Vanuatu again.
Mitt Romney may not have won the election in the first debate, but he established a new baseline. In 90 minutes in Denver, Mr. Romney finally aligned himself with the political zeitgeist of the electorate. They have wanted to know more about his plans. They wanted to know why he thinks their current president has failed and what he'd do differently. Now they do.

Will it last? It would be passing strange, even a little weird, if Mr. Romney reverted to a candidacy skimming along the surface of issues and arguments. He can go deep. He should keep doing it. Besides as he said minutes into the debate, "It's fun, isn't it?" It is. Give the voters more of it.
You can watch the full debate,
[Note: CSPAN changed their minds and now the debate is not embeddable. You must go to their website to watch it.]
There!
UPDATE,
the Taiwanese are at it,
while Jon Stewart wonders if Obama isn't that smart,
Well, Obama's saying "it wasn't the real Mitt Romney." How smart of him!