Anthony Weiner, the Chicken Run look-alike and all-around perv waited a year and a month, but he's got a comeback in mind,
Disgraced pol Weiner eyes mayor or public advocate run
The disgraced former congressman — who's sitting on a $4.5 million campaign war chest — is mulling a bid for citywide office next year and "seriously considering" a mayoral run, multiple sources told The Post.

The cocky pol is also open to the post of public advocate as a backup plan, said sources, who described the Queens Democrat as "desperate" to get back into politics.

Weiner, 47, has even spoken to former staffers about going back to work for him, according to another source.

And he wants to run soon because the public match on his campaign funds are due to expire after the 2013 election.
The cocky pol waxed, too, butt I digress.
And then, there's pubic public advocate,
The buzz in political circles is that the sext-happy Weiner has a better shot at public advocate — a $165,000-a-year job viewed as a "cleansing" post where he could put his character issues further behind him as he prepped for a 2017 mayoral run.
Cleansing, waxing, whatever. Just go away!

——————————–
UPDATE, 18 July
,
Oh, look, right on schedule, Weiner's on People Mag
with baby pictures
.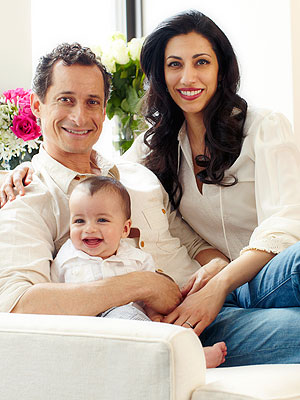 Next: Huma writes a book. Oprah interviews them. Media fawns.