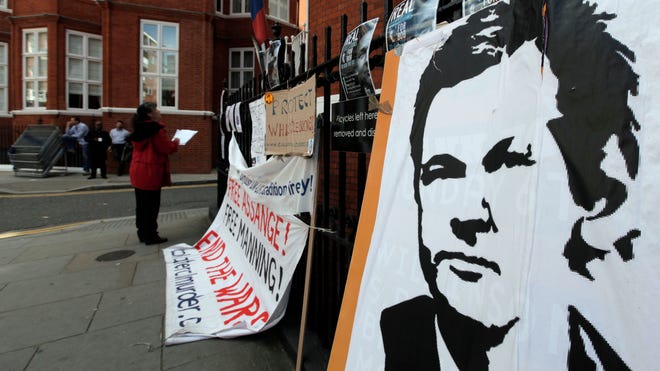 For Assange, home comforts inside Ecuador embassy
HOW IS ASSANGE LIVING INSIDE THE EMBASSY?
Assange is living and working pretty much as normal inside a small office that also serves as his bedroom. Supporters say he could continue to reside in the embassy, close to the world famous Harrods store in upscale Knightsbridge, for months. Gavin MacFadyen, a supporter and director of the Center for Investigative Journalism at London's City University, has visited Assange inside the building and says that while "it's not quite the Hilton," embassy staffers are "jolly" and getting along well with the activist. The embassy has about five or six rooms and previously was used as a single apartment. Assange has a bed, access to a phone and a connection to the Internet. He can also receive guests, though the space is cramped. The crowded embassy is in sharp contrast to Assange's last permanent address — Ellingham Hall, a supporter's elegant country house on vast grounds in eastern England.
Hey, he's in Knightsbridge, rent-free, and can send out for take-out from Harrods. With that, who needs an "elegant country house on vast grounds"?
Jazz Shaw appraises the situation,
If Ecuador either liked us or feared us enough, we could probably jump in and help the Brits with this Assange extradition situation, but they seem to be neither. That's not to say that the UK may not still pry Assange out, particularly if helping him doesn't seem to provide any real benefit to Ecuador, but it looks like the US will be sitting this one out on the sidelines.
Jazz is an optimist: I fully expect the current administration to wait until the foil goes on the windows and then send the American ambassador to call on Julian.