The UN continues to prove itself as a bottomless cesspool of corruption, depravity, and criminality: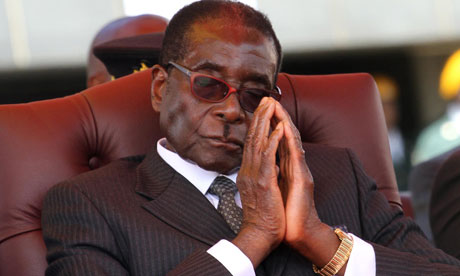 Robert Mugabe asked to be UN 'leader for tourism'
The Zimbabwe president, accused of ethnic cleansing and bankrupting his country, asked to champion tourism
With a line-up that includes Drew Barrymore, David Beckham, Orlando Bloom, and Ricky Martin, the UN's choice of ambassadors has been known to cause raised eyebrows or the odd smirk.

Seldom, however, has there been such anger, or questioning of the organisation's credibility, as that greeting the appointment of a new international envoy for tourism: Robert Mugabe.

Improbable as it seems, the Zimbabwean president, who is widely accused of ethnic cleansing, rigging elections, terrorising opposition, controlling media and presiding over a collapsed economy, has been endorsed as a champion of efforts to boost global holidaymaking.

Despite that fact Mugabe, 88, is under a travel ban, he has been honoured as a "leader for tourism" by the UN's World Tourism Organisation, along with his political ally, Zambian president Michael Sata, 75. The pair signed an agreement with UNWTO secretary general Taleb Rifai at their shared border at Victoria Falls on Tuesday.
The UN ought to take a closer look at what Zimbabwe is like
Some 3,500 people die per week in Zimbabwe due to HIV/AIDS alone. Tag on the random muggings, violence, and property crime in a country with an unemployment rate hovering at around 80 per cent, and what remains of Zimbabwe's populace is very beleaguered. One of the best measurements for determining that a country has in fact hit rock bottom is the appearance of cholera. When a state can no longer separate its potable water from raw sewage, then any sense of concern for the general welfare of the citizenry by the government is non-existent. Over several visits I made to Zimbabwe some years ago, I watched the economy and quality of life deteriorate before my very eyes. The country once touted as the bread-basket of Africa and a showcase of interracial harmony and prosperity has become a living hell on earth.
Millions of dead people clamor from their graves, and the UN names Mugabe "tourism ambassador."
UPDATE:
Joshua Keating says that "Dozens of other heads of state, from countries…have signed on to the UNWTO's "golden book of tourism" already. In other words, not a particularly exclusive list."
I want to know why would anyone ask Mugabe in the first place.
Ros-Lehtinen: 'Enough is Enough,' UN Must Stop Aiding Dictators
Linked by At Water's Edge. Thanks!