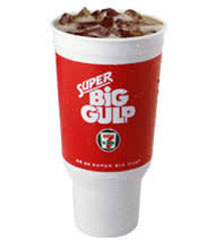 Just in time for summer heat, New York Plans to Ban Sale of Big Sizes of Sugary Drinks
New York City plans to enact a far-reaching ban on the sale of large sodas and other sugary drinks at restaurants, movie theaters and street carts, in the most ambitious effort yet by the Bloomberg administration to combat rising obesity.
Obviously Mike thinks it's up to him to do something, no matter how meaningless, to bring in more government regulation,
The proposed ban would affect virtually the entire menu of popular sugary drinks found in delis, fast-food franchises and even sports arenas, from energy drinks to pre-sweetened iced teas. The sale of any cup or bottle of sweetened drink larger than 16 fluid ounces — about the size of a medium coffee, and smaller than a common soda bottle — would be prohibited under the first-in-the-nation plan, which could take effect as soon as next March.

The measure would not apply to diet sodas, fruit juices, dairy-based drinks like milkshakes, or alcoholic beverages; it would not extend to beverages sold in grocery or convenience stores.
So, after all, to answer my question in the post title, it looks like you'll still be able to get a Big Gulp, if they sell them in Manhattan?
What will happen is that businesses will offer free refills, people will spend more money, and producers will find a way around it, as it happened with candy bars,
The company has replaced the King Size Snickers with the so-called "2toGo," which is two bars in one package. Each of the bars is 220 calories. The company said the package can be resealed "to save one for later."
By the way,
I have had chronic hypoglycemia for well over a decade, and do not tolerate anything with any sugar added, so I simply do not have anything with added sugar. The thing is, it's up to you, not to Mike Bloomberg, to decide what you eat. Upcoming sugar taxes are even more of an insult than these "bans on sugary drinks", since the government spends huge amounts of money in sugar subsidies, including corn syrup.
What it all adds up to is, we live in a much less free society than we did 100 years ago. 50 years ago. in fact, 20 years ago, thanks to Mike Bloomberg, among others.
Michael Bloomberg: turning the Empire State into the Nanny State, one diet item at a time.
UPDATE:
Mike wants to save you from yourself but endorses Charlie Rangel. Culture of corruption indeed.
"We're forcing you to understand"?
And,
NYC Council: Ban Of Large Sugared Sodas 'Seems Punitive,' 'Won't Yield A Positive Result'