Now that Kim Jong Il is no longer, all the news outlets have gone out of their way to describe the despicable despot as "North Korean leader", and his spawn as "North Korea's new leader Kim Jong Eun", about whom we know nearly nothing. Not even his age.
Eun is also spelled Un, depending on where you look, which makes me wonder if we'll have another Gaddafi/Khadaffi/whatever multiple-spelling situation.
The state funeral for Kim Jong Il is scheduled for Dec. 28. North Korea has said no foreign delegations will be accepted.
The old son of a bitch may have been dead for months for all I care. The South Koreans are worried enough they'll not light up the Christmas tree,
To remove a potential flashpoint, South Korea's cabinet decided Tuesday it wouldn't allow church groups to illuminate three large Christmas-tree shaped towers near the North Korean border. The giant towers, located about two miles from the border and visible from the North Korean town of Kaesong, were scheduled to be illuminated on Friday.
North Korea remains in the dark, regardless: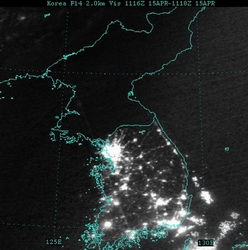 Leader? Please, a murderous tyrant should be called exactly that.
28291