Gerard links to the visuals of the Mythbusters' cannonball run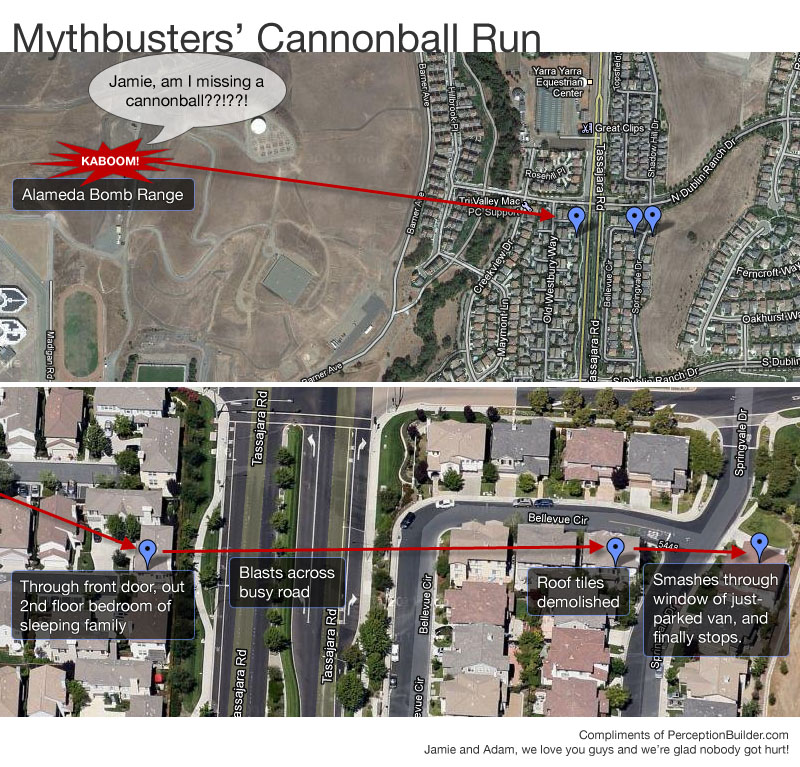 Gerard itemizes the spectacle,
KAA-BLAMMMMMmmmmm!

After which….
1) The cantaloupe-sized cannonball missed the water,
2) tore through a cinder-block wall,
3) skipped off a hillside and flew some 700 yards east,
4) entered, at speed, the Tassajara Creek neighborhood,
5) where children were returning home from school at 4:15 p.m
6) bounced in front of a home on quiet Cassata Place
7) ripped through the front door
raced up the stairs and blasted through a bedroom
9) where a man, woman and child slept through it all — only awakening because of plaster dust –
10) exited the house, leaving a perfectly round hole in the stucco
11) crossed six-lane Tassajara Road
12) took out several tiles from the roof of a home on Bellevue Circle
13) slammed into the Gill family's Toyota Sienna minivan in a driveway on Springvale Drive where…
14) Jasbir Gill, 42, who had pulled up 10 minutes earlier with his 13-year-old son, Manvir, found the ball on the floorboards, with glass everywhere and an obliterated dashboard.
"Don't try this at home."
28218