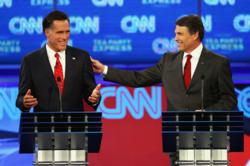 Hendrik Pohl is as bored as I of seeing presidential candidates wear the same uniform: dark suits, white shirt, red ties, and wants a change,
Pohl is convinced that "The time has come for a leader who can break down old conventions and build a new foundation for stability and progress with innovation and cutting edge critical thinking. The public wants to vote for a leader who associates ruby red ties to old school politics. It's time to re evaluate our political system, break away from outdated conventions and introduce new policies, and it all starts with how the candidate dresses. People want change and not the same old red tie gray suit look." People want a leader that is not afraid to step away from the norm and Pohl is convinced when he says, "I believe the public would respond quite positively to a candidate wearing a different outfit. Take the light blue tie for example. It is a bright and vivid color that is not only different from the uniform looking red tie, but blue is also associated with calmness and serenity." If he were to consult political candidates on how to dress, he would embrace "change" even further by adding pink ties, skinny ties, and even as he puts it "Winston Churchill style bow ties".
A candidate in a bow tie: Now, that would be one gutsy guy!
27599