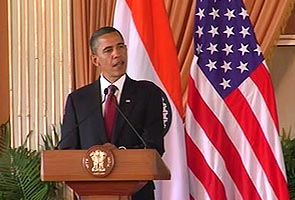 President Obama blew India's mind with his insane teleprompter skills and his 30-minute speech,
On Monday, the red sandstone columns of Indian parliament were wrapped with marigold garlands. The hall was packed, with dozens of members of parliament standing, said lawmaker Rajeev Chandrasekhar. Some members argued with security guards and asked for extra chairs. A few male lawmakers reluctantly gave up their seats for women members
Once settled, the audience had the privilege to hear the POTUS tell them India needs more bureaucrats.
Uh?
"I would just suggest that I hope some of you decide to go ahead and get involved in public service — which can be frustrating," he said. "But India is going to need you not just as businessmen but also as leaders who are helping to reduce bureaucracy and make government more responsive and deliver services more efficiently."
IBD editorial points out,
Probably no nation has been so choked by its bureaucrats as India. Words like "satrap" and "panjandrum," commonly used to describe bureaucrats, are from, well, India.
The reality is that bureaucrats stifled economic growth for decades; indeed,
the only reason India's technology industry was able to take off at all was that bureaucrats were unable to stifle it.

His [Nandan Nilekani, founder of Infosys] company grew because "we experienced little of the labor problems and strikes that plagued India's traditional industries. Since the government did not recognize us as a 'conventional' business for a long time, their regulations did not hamper us, and we worked outside the controls that stifled companies in manufacturing and agriculture. … We did not have to build relationships with bureaucrats, or make periodic visits to Delhi," Nilekani wrote.
Obama is acting consistently. His distaste for private enterprise is clear:
business leaders, even the few who continue to be Obama-friendly, say they are convinced he is hostile to free markets and the private sector. Some of these executives have balance sheets flush with cash but are reluctant to add jobs or expand in part because they don't trust Obama's instincts for growth.

"He used anti-corporate, confrontational rhetoric too for legislative gain and kept doing it after folks found it gratuitous," a top executive said.
A member of the packed audience was so overwhelmed by Obama's pearls of wisdom, he gave Obama his pearl necklace (described as "a golden chain with south sea pearls") – which Obama took.
Makes you wonder if the US bureaucrats will make him report the gift.
UPDATE:
Welcome, MOTUS readers!
23738