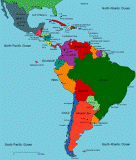 Welcome to the Carnival of Latin America and the Caribbean.
Today's top story: Yoani Sánchez and Orlando Luís Pardo Lazo last Friday, November 6, were kidnapped off a street in Havana just as they were about to participate on a peace demonstration. They were severely beaten by three men, threatened, and released. More details on the story in the Cuba section below. I'll be talking about this in today's podcast at 11AM Eastern.
Val Prieto posted an item Claudia Cadelo, another Cuban blogging from the island-prison, is posting now at Babalu.
Another top story making the news in the media is that Chavez is threatening war with Colombia… again. You'd think he would come up with something new by now.
ARGENTINA
Latin American Leaders Seek to Rein in Media, Press Group Says
BRAZIL
The Guardian blogger loooves Lula: How far can Lula's stardust scatter?
The president of Brazil stands for democracy, and for the poor. These are still valuable qualities in the 21st century
In the midst of a tectonic shift in the new world order
World's barriers: Rio de Janeiro
CHILE
Chile's Mapuches
The people and the land: A fight over history and poverty
COLOMBIA
Developments in Colombia-Venezuela Trade Row?
How Pablo Escobar's son atoned for the sins of his father
Colombian drug baron Pablo Escobar was gunned down in 1993. In an exclusive interview, his son tells Uki Goñi why he had to seek reconciliation with the children of Pablo's victims while Dinosaurs and Versace entice tourists to Pablo Escobar's drug ranch
CUBA
A gangland style kidnapping
Who's Afraid of Yoani Sanchez?
Human Rights Watch denounces attack on Yoani

Penúltimos Días has video of the Cuban state security detail that follow Yoani Sanchez
The detention and beating of Yoani Sanchez and friends is business as usual for the Castro brothers. Their so-called people's revolution has in fact been a half-century reign of terror against the Cuban people. Bombings, executions, hijackings, torture, imprisonment, the deliberate drowning of women and children, fear tactics imposed by Stasi style security agents with CDR spies in every neighborhood, mandatory indoctrination of children, concentration camps, hunger, actos de repudios, forced exile and family separation, and the denial of human rights. Equally shocking is the fact that these mass-murdering thugs remain the darlings of the left. Just this past week Hollywood's roving reporter Sean Penn made pilgrimage to Cuba in search of spike for his kool-aid. Surely, there must be a special place in hell for them all.
Dictatorships and double standards, part 2
Revelan detalles íntimos de cómo vive Fidel Castro hoy en día Paper describes Fidel's home, daily routine
GUATEMALA
El regreso de las patrullas de autodefensa civil
EL SALVADOR
Chávez's Next Target: El Salvador
Twenty-first century socialism may have stumbled in Honduras but it is being tried again in El Salvador.
HAITI
Rebuilding Haiti
A step backward: The dumping of the prime minister raises fears of drift
HONDURAS
Honduras Accord did not fail
Honduras's political conflict
Zelaya's scrap of paper: Unless outsiders continue to press, a deal to end a stubborn political conflict risks coming unstuck even before it is implemented
Calamity in Honduras; Obama bus backs over Zelaya…
Zelaya in June 25 video: For those of you who must insist that Zelaya didn't violate the law prior to being deposed, here is a video of Zelaya leading a mob to steal the Venezuela-printed ballots and electoral material that the Honduran authorities had declared illegal.
VIDEO Mel Zelaya did propose reelection.
MEXICO
Perspective on: Freud and Mexico, via Vienna
Soldiers wary of often corrupt Mexican police
NICARAGUA
Democracy still unravelling

A New Mosque in Nicaragua Fires Up the Rumor Mill
In Poor Country, 'Everyone Asks' if Iran Helped Out; Question for the Contractor
PANAMA
Infectious Disease Associated With Gringos
PARAGUAY
Military leaders replaced in Paraguay
PERU
Ecosystem in Peru Is Losing a Key Ally
PUERTO RICO
Ailing Puerto Rico cuts more public sector jobs
VENEZUELA
Chavez Orders Venezuela to Ready for War as Colombia Urges Calm Chavez Says Venezuela to Prepare for War as Deterrent
"Generals of the armed forces, the best way to avoid a war is to prepare for one," Chavez said in comments on state television during his weekly "Alo Presidente" program. "Colombia handed over their country and is now another state of the union. Don't make the mistake of attacking: Venezuela is willing to do anything."
Chavez: Prepare For War, Here Come The Americans …
Chávez asks the military to prepare for war with Colombia: Chávez pide a militares "prepararse para guerra" con Colombia. Here he is stating it in his Alo presidente TV show (in Spanish). He also tells Obama "don't make a mistake, Mr President Obama, and order open aggression against Venezuela by using Colombia. Don't make that mistake, because we're ready for everything."

Chavez steps up Colombia war talk
The 2010 votes: gerrymandering in Venezuela
Venezuela's energy shortage
Losing power: Communism is a cold shower
Venezuela's Central Bank Reserves Boosted By IMF Infusion
Venezuela: Indians die of swine flu
Via Caracas Chronicles, Gays Attacked, Harassed By Police
Special thanks to Maggie, the Baron, Eneas, Dick and Dan.
The week's posts and podcasts
Zelaya Says Honduras Deal Is Off
Cuban bloggers arrested and beaten
Ecuador jails political dissidents: 15 Minutes on Latin America
Honduras: "What we got here is… failure to communicate."
To the bathroom with a flashlight in Caracas: 15 Minutes on Latin America
Nicaragua's Ortega, now and forever? 15 Minutes on Latin America