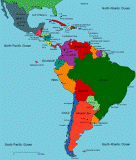 Welcome to the Carnival of Latin America and the Caribbean. The week's big story: Rio de Janeiro gets the 2016 Olympics.
In Honduras, a US Senate delegation and a House delegation have visited the country since Friday. The New Republic's James Kirchick writes on Ousting Zelaya
Is Obama on the wrong side of the Honduran constitutional crisis?
The events of the past several months reveal a lack of consistency in Obama's approach to various foreign conflicts. How does this administration justify its recognition of results of elections in Pakistan, Iraq, and other countries mired in constitutional disputes, but now refuse to recognize an election in Honduras, even if it is conducted in a free and fair manner? And why give greater diplomatic dignity to the representatives of Iran–who have no legitimacy whatsoever–and not those of democratic Honduras? Even after blatantly stealing the presidential election, the White House referred to Ahmadinejad as the "the elected leader" of Iran (which White House spokesman Robert Gibbs later had to retract).

In the immediate wake of Honduras's constitutional crisis, it was understandable that the administration, caught by surprise, might jump the gun in its denunciation of the military action as a "coup." Now, three months later and with legal repudiation from within its own government, U.S. policy has become a mistake in search of a rationale.
LATIN AMERICA:
Don't miss Mary O'Grady's excellent article in today's WSJ: Revolutionary Anti-Semitism
Chávez imports Ahmadinejad's ideology to Latin America.
The Honduras debate is not really about Honduras. It is about whether it is possible to stop the spread of chavismo and all it implies, including nuclear proliferation and terrorism in Latin America. Most troubling is the unflinching support for Mr. Zelaya from President Barack Obama and Democratic Sen. John Kerry—despite the Law Library of Congress review that shows that Mr. Zelaya's removal from office was legal, and the clear evidence that he is Mr. Chávez's man in Tegucigalpa. On Thursday, Mr. Kerry took the unprecedented step of trying to block a fact-finding mission to Honduras by Republican Sen. Jim DeMint, who is resisting Mr. Obama's efforts to restore Mr. Zelaya to power.
Otto Reich talking about Honduras, Venezuela and Obama:
ANTIGUA
Did lawyers' legal advice aid Allen Stanford's banking empire?
BOLIVIA
Elecciones para consolidar el autoritarismo
BRAZIL
BRICs Insist on Greater Voice at IMF, Brazil's Mantega Says
CUBA
Reclaiming History
Agustin Cervantes, Cuban Political Prisoner of the Week, 10/4/09
Some details emerge of 2 foiled concerts
ECUADOR
Ecuador's president: Correa and the golden ponchos
A popular leader faces mounting opposition on both left and right
GUATEMALA
Guatemala: A Source of Weapons for Mexican Criminals
HONDURAS
For the latest updates with in-country blogging, check out La Gringa. Her latest today: Sorry no refund policy for Zelaya
Kerry's Banana Politics
Congress: Banana republic politics aren't just confined to Honduras these days. On Thursday, Sen. John Kerry tried to halt Sen. Jim DeMint's trip there in a tit-for-tat slap. And he thinks it's Hondurans who need dialogue?
Zelaya's Chief Propagandist Endorses Hitler and the Holocaust
Honduras's power struggle: Cracks within and without
Micheletti overplays his hand
Jim DeMint Criticized for Fact Finding Mission to Honduras by History Revisionist
Is Obama's Handling of Honduras a View of Our Future?
Eye-Rubbing Hypocrisy of Delahunt & Co.
Jewish Leaders Outraged Over Obama's Pal Zelaya's Anti-Semitic Remarks
MEXICO
Mexico's troubled oil industry: How many Mexicans does it take to drill an oil well?
More than 140,000, and even then they're not very good at it. For this, now acute, problem, blame the politicians
PANAMA
Mosto Bistro Again
URUGUAY
Education in Uruguay: Laptops for all
A pioneering project's chequered start
VENEZUELA
Politics and Prison in Venezuela
Student Protester's Saga Shines New Light on Chávez's Approach to Dissent
Only in Venezuela, part 58,271,943
Eva Golinger: US Will Attack Venezuela
VenEconomy: Victory for the Leader…
XXIst Century Socialism Union Leaders, race horses included
AMERICAN POLITICS
You can play a great game and still not win,"
IMMIGRATION
Sharp rise in Chinese arrests at U.S. border
At least 261 have been arrested this year trying to cross near Tucson. Illegal Chinese immigrants can be big money for smugglers.
Sophisticated Asian mafias organize intricate journeys to the U.S. A typical route leads from Beijing to Rome to Caracas, Venezuela, to Mexico City to the border, according to Matthew Allen, chief agent of the Phoenix office of Immigration and Customs Enforcement.
Special thanks to the Baron, Dick, El Marco, Eneas, Larwyn, Maggie and Maria.
This week's posts and podcasts
Rio and the crime problem
DeMint's trip to Honduras is on; UPDATE: photo from the visit
Kerry's political blackmail
Lula, Arias, Honduras, and the US: 15 Minutes on Latin America
Newt on Honduras
Is it time to confront Hugo Chavez? 15 Minutes on Latin America
Honduras suspends civil liberties: 15 Minutes on Latin America UPDATE: Micheletti will restore civil liberties
U.S. blasts Zelaya for "foolish" return
And
Welcome, Dodgeblogium readers. Please visit often!