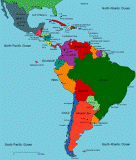 Welcome to the Carnival of Latin America and the Caribbean.
UPDATE
Carlos Alberto Montaner: Honduras Must Hold Firm on Zelaya
Politics is full of surprises. Roberto Micheletti, designated president of Honduras by that country's parliament, wanted former President Manuel Zelaya to remain in jail in Tegucigalpa while judges and prosecutors formalized the judicial process against him for violation of the Constitution, corruption and misappropriation of public funds. Curiously, Hugo Chávez, Lula da Silva and Daniel Ortega have made that detention possible.

True, Zelaya is not in a Honduran jail but in the Brazilian Embassy in the capital, but that's a lot more convenient for the government of Micheletti. It is unlikely that pro-Zelaya commandos will break into the Brazilian haven to try to rescue him, because he entered it of his own will and, in any case, the responsibility for Zelaya's physical integrity is now in the hands of Brazil. The Honduran police need only guard the building's exterior and control the comings and goings. At some point, Zelaya will decide to submit to his country's justice, or maybe he'll choose to spend a long time under asylum.

Meanwhile, President Micheletti, with remarkable firmness, says that he's going ahead with the elections planned for Nov. 29. Shortly before Zelaya's return, Panama declared that, if the upcoming Honduran elections are fair and transparent, it will recognize the new government. That's the sensible thing to do. Fortunately, President Ricardo Martinelli is a brave statesman who doesn't mind swimming against the current if it is morally justifiable to him.
LATIN AMERICA
The American journey
Columbus Day celebrates our ever-new beginning
"HITN, Latino and Categorizing"
George Shultz on the Drug War
The former secretary of state has long doubted the wisdom of interdiction.
Commentary: How realistic is it for the Caribbean to join the G20?
Maya Disparage Apocalyptic Nutjobs, since 2012 isn't the end of the world, Mayans insist
ARGENTINA
Obituary on Mercedes Sosa
BOLIVIA
Buenos días represión
INTO THE ABYSS: BOLIVIA UNDER EVO MORALES AND THE MAS
CHILE
Fiesta de las Bicicletas en el Forestal.
CUBA
Architecture of the emergency
Yoel Lázaro Carbonell Guilar, Cuban Political Prisoner of the Week, 10/11/09
Michael Moore proven a liar on national TV
The Accolades Keep Coming In… Castro Praises Obama's Nobel Prize
Fidel Castro Lauds Obama's Nobel Prize
GAO Report, Another U.S.-Cuba Policy Sideshow
Cuba's economy: The demise of the free lunch
Near-bankruptcy is causing Cuba to jettison the Utopian paternalism of Che and Fidel. The future involves hard work for higher, but still-paltry, wages
ECUADOR
NY Times Plays Photo Tricks to Condemn Chevron in Ecuador Dispute
GUATEMALA
The entire country of Guatemala had an electric blackout yesterday due to a lightning strike. Didn't take long for a crazy conspiracy theory to come up with a nutty explanation – Apagón en Guatemala fue causado por terroristas indígenas y un líder español
HONDURAS
What Micheletti really said to the OAS
Crisis in Honduras: What was really behind the removal of President Manuel Zelaya, and is he likely to be reinstated?
Conozca al padre Tamayo, el guía espiritual de Zelaya en la embajada de Brasil
Jim DeMint's Report From Honduras–>Obama Is Wrong
The Honduras article Sen. Kerry (D, MA) didn't want you to see.
Release the Koh Memorandum on Honduras
Barack Fidel Che Obama, the Bolivarian Revolution's useful idiot, reverses the Monroe Doctrine
MEXICO
Additional 300 miles of border fencing killed, via The Latin Americanist
NICARAGUA
DeMint vs Kerry on Honduras
PANAMA
Death Paperwork For Foreigners in David
PERU
The Mystery of Capital among the Indigenous People of the Amazon
VENEZUELA
The 2010 votes: legal cheating in a pro Chavez electoral system
So you want to know what Chavez' economic plan is?
Muertos de sed o ahogados por la lluvia
Venezuelans got a reprieve from the endless cadenas yesterday when Chávez called in sick, Hoy no hubo Aló Presidente por un "quebranto de salud" de Hugo Chávez
Chávez: Obama no merece el Nobel Unlike Castro, Chavez says Obama doesn't deserve the Nobel Prize.
IMMIGRATION
Workplace Immigration Raids Not a Cure-All
Experience shows that even though such crackdowns are necessary, they often cause more problems than they solve.
Special thanks to Ada, Bill, and Dick.
This week's posts and podcasts
Argentina's new media law: 15 Minutes on Latin America
The complicated Brazil Olympics
Argentina's new law limits the media
Why won't the Obama administration support the upcoming Honduran elections?
Lanny Davis proposes a new solution for Honduras
Honduras's Micheletti blasts OAS
Chavez shouldn't travel as much, and other headlines: 15 Minutes on Latin America
Hondurans start new talks
VIDEO: Venezuelan farm stolen by Chavez