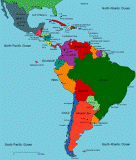 Welcome to the Carnival of Latin America and the Caribbean.
In the unusual news of the week department, Josefa the Cuban mummy was finally laid to rest.
Fidel's resting at this usual spot, too.
ARGENTINA
Monopoly slayers and freedom fighters
Argentina is the latest Latin American country to battle the media. At stake is the way political representation will evolve
BRAZIL
Brazil's tilt towards Chavez and Iran
CHILE
Chile squirrels away copper fortunes and spends prudently
Cierre de Calles y Pasajes II. La ciudad entre rejas y espacio público
COLOMBIA
President faces 'crossroads of soul'
CUBA
Gabriel García Márquez: Spy for Cuba
No New York visit for critical Cuban blogger
EL SALVADOR
El Salvador: Un truco barato
HONDURAS
Super Sunday Rumors!
"Chávez confirma las sospechas hondureñas: el ALBA es un proyecto militar"
MEXICO
Mexico's Calderón Takes on Big Labor
Its state-owned electricity company was bleeding the national treasury dry.
Citigroup might lose Mexican subsidiary
PUERTO RICO
Charlie Rangel to Puerto Rico: Wouldn't it be a shame if something happened to your grandmother
Puerto Rican Syringe Vending Machine
VENEZUELA
The 2010 Venezuelan votes: how to assign the district seats
Here we go again: We now get a trio of PDVSA bonds
This week's posts and podcasts
Spain intercepts 510 kilos of cocaine shipped from Venezuela
At Real Clear World
A Tale of Two Media in Honduras Crisis
Honduras: Is Zelaya going to Spain?