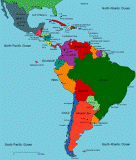 Welcome to the Carnival of Latin America and the Caribbean. The top story of the week: Mel Zelaya's back in Honduras. Check out La Gringa excellent blogicito for the latest. Roberto Micheletti replies to Zelaya in today's Washington Post. I'll be talking about the latest news on Zelaya's return on this morning's podcast at 11AM Eastern.
Update Babalu has an update on the story right now.
Oh, and by the way, the Russians are back in Cuba rearming the military.
LATIN AMERICA
Could war erupt in arms-spree LatAm?
ARGENTINA
Argentina's Defaulted Bonds Rally: Week Ahead
BOLIVIA
El ojo de la tormenta
Jaime Bayly from last August (in Spanish),

CHILE
Chile's presidential election: The strange chill in Chile
After presiding over Latin America's big success story for two decades, the centre-left Concertación coalition looks tired and divided
Chile's surprising president: The Bachelet model
A politician on top of her game
COLOMBIA
Video: Colombia's spy scandal
CUBA
Juanes in Havana:`This is the power of music'
Hundreds of thousands of revelers filled Havana's Plaza of the Revolution on Sunday for Juanes' historic mega-concert, while in Miami, exiles watched on TV with mixed emotions.
The Russians are rebuilding the Cuban army: Rebuilding Cuban Army is a daunting task, assesses Russian report on general's visit
Russia to modernize and train Cuban military
ECUADOR
Chevron's Slugfest in Ecuador Shows No Sign of Slowing in the Late Rounds
HONDURAS
Zelaya 'will rebuild democracy', just as he was when he had the ballots printed in and shipped from Venezuela, you mean?
Hillary's Honduras Obsession: The U.S. is trying to force the country to violate its constitution.
On whose hands will the blood of Hondurans be?
EDITORIAL: Subverting Honduran democracy: Obama continues to support thugs in Latin America
Applying the Lessons of Iran to the Honduran Crisis
How Obama can deal with the great presidential dispute in six easy steps.
DeMint holds up anti Honduras appointments
A national disgrace : Obama's harrassment of freedom-loving Honduras
Supports ousted president who *actually* tried to stage a coup
JAMAICA
Homophobia in Jamaica: A vicious intolerance
The politicians seem unperturbed by hate crimes
MEXICO
Hezballah's Mexican connection
Gunmen kill 10 at Mexico drug treatment center
Content warning: Security camera footage of the shootout at the Mexico subway El terrible video del tiroteo en el Metro de México (Adv: Imágenes fuertes)
PARAGUAY
Vicepresidente cuestiona a Lugo por rechazo a militares de EEUU
PUERTO RICO
US struggles to keep up in Puerto Rico's drug war
VENEZUELA
Venezuela's Central Bank Reserves Boosted By IMF Infusion
The new relationship between Iran and Venezuela started in 2006. If we brush aside the rhetorical declarations of mutual love, we are left with three hard facts, all of which emanate from the military, political and economic accords signed by Caracas and Tehran.

First, Iran has set up financial institutions—such as the Banco Internacional de Desarrollo—in Venezuela ostensibly for development purposes. But since Iran is in no position to lavish on other countries the development it has failed to bring to its own people, investigators believe the real intention is to bypass sanctions that bar Tehran from using the banking institutions of the United States for payments related to its nuclear program. Second, in the past three years a series of factories owned by Iran have been established in remote locations inside Venezuela, including an area containing up to 50,000 tons of uranium. Third, last December, Turkey intercepted an Iranian ship bound for Venezuela with equipment capable of producing explosives; it was hidden in 22 containers labeled "tractor parts."
Iran and Venezuela: A dangerous alliance
La norieguización de Hugo Chávez
Via New Zeal, CHAVEZ PREDICTS THE END OF AMERICA
Venezuela's foreign policy: Dreams of a different world
Arms and the tyrants
Venezuela's Iran ties raise eyebrows
The "Ripley believe it or not" Venezuelan health system
US POLITICS
Obama's Extremely Historic Plans for the U
Forrest "Jimmy" Gump Carter: Stupid is, stupid does…
Special thanks to the Baron, Dick, Eneas, Larwyn and Maggie.
This week's posts and podcasts
Breaking news: ZELAYA BACK IN HONDURAS
Today's the Juanes concert in Havana
Honduras: Danny Glover heading there to help "resistance", Zelaya to the UN. As we now know, Zelaya wasn't heading to the UN, he was heading to Tegucigalpa.
The future of Venezuela?
And now for a brief post on Honduras, updated with VIDEO
Could war erupt in arms-spree Latin America?