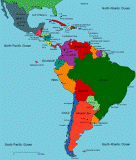 Welcome to the Carnival of Latin America and the Caribbean. The week's big news: Iran's nuclear development, and its ties with Venezuela,
and Mel Zelaya's arrival at the Brazilian embassy in Tegucigalpa, from where he's calling for a final offensive against the government.
Mary Anastasia O'Grady explains Brazil's role, in today's WSJ,
Honduras Just Wants an Election
The U.S. demand that Mr. Zelaya be returned to power before a vote is destructive.
Last Monday former Honduran President Manuel Zelaya, who was arrested, deported and legally deposed from office on June 28, made a stealth return to Tegucigalpa and sought shelter at the Brazilian Embassy. Mr. Zelaya told a Honduran radio station that his plan to return was hatched in consultation with Mr. da Silva and Foreign Minister Celso Amorim. Brazil says it had nothing to do with smuggling Mr. Zelaya into the country, which is tantamount to calling the former Honduran president a liar. On that point, many Hondurans would agree.

Mr. Zelaya has corruption charges pending against him in Honduras but "noninterventionist" Brazil refuses to hand him over to authorities. Instead it is allowing him to use the embassy as a command center from which he has been calling his violent supporters into the streets.

Mr. da Silva's sympathies with the extreme left and his friendship with Fidel Castro are legendary. At home he doesn't engage in the leftist militancy of the 1970s because Brazilians won't have it. He is constrained by institutions, economic reality and public pressure. His admiration for communism even waned a bit when Venezuela and Bolivia tried to nationalize Brazilian investments. Yet he has to feed crumbs to his notoriously left-wing foreign ministry and that's where Honduras comes in handy.

This practice of moderation at home and extremism abroad is not unique to Brazil. Many Latin American presidents do the same thing. What is frightening is that the U.S. seems to be adopting a similar policy.
LATIN AMERICA
Today's must-read: the Congressional Research Service's Honduras: Constitutional Law Issues
El Banco del Sur ya es una realidad, pero sin Colombia ni Perú
The Foreign Policy Initiative Afternoon Round-Up: September 25, 2009
BOLIVIA
ALERTA : Irán: ¿tras el uranio de Bolivia?
BRAZIL
No Nukes? Then Allow IAEA Inspectors Full Access in Brazil
Lula confirms signing an agreement to build an oil refinery with Venezuela's oil monopoly PDVSA, Anunció firma de acuerdo para la construcción de refinería con Pdvsa
Brazil's risky role in Honduras crisis
COLOMBIA
Law and politics in Colombia: His own worst enemy
The president misses an opportunity to stake out the high ground
Honduras's power struggle: Zelaya swaps exile for embassy
The unexpected return of the ousted president (pictured below, with his signature hat) highlights the failure of the region's diplomats to reverse a coup
CUBA
The Iran-Cuba Axis
Danny Glover: spokesman for the slavemaster
Bosé y Juanes reconocen que cumplieron con "todo, todo, todo" lo que les impuso el regimen
Fidel has 10+ children, new book says
Fidel Castro's Cuba full of his offspring after years of womanising by El Commandante
Fidel Castro, Cuba's long-standing dictator, has fathered at least 10 children by a string of women, according to a new book.
Cuba to Experiment with Ending Free Meals at State Workplaces
ECUADOR
He's back – Judge Núñez Reinstated to Preside over Chevron/Ecuador Case
HONDURAS
Honduras suspends constitutional rights
Citizens' demand concerning the Honduran elections
Manuel Zelaya's strange prison
Honduras Issues Deadline to Brazil Over Zelaya
Honduras to Brazil: this Zelaya thing's getting old.
Honduran Government to Brazil: Fish or Cut (the Zelaya) Bait
Zionist Radiation Beams? Yup, Sounds Like Zelaya
Honduras puts off OAS delegation
The Micheletti government in Honduras delays a visit by OAS foreign ministers. The U.N. Security Council warns against any violation of the Brazilian Embassy.
"CRS Report" on Honduras "Coup"
WashPost: go forward with elections
MEXICO
Mexico's southern border: Lawless roads
Where migrants meet criminals
PANAMA
Tango in Dos Rios
PUERTO RICO
Puerto Rico cuts more government jobs
Puerto Rico Teachers Slam Deteriorating Working Conditions
VENEZUELA
After Chavez left the UN he headed to the South America-Africa Summit, where he and Gaddfi criticized the West. You don't say.
Venezuelan oil exports to the USA: You say you want a revolution…
Iran Helping Venezuela Find Uranium Deposits
Marxist Leader Hugo Chavez Praises Obama & Slams FOX News During UN Interview
Venezuela Promises First Compensation in One Cement Nationalization
This week's posts and podcasts:
Iran Helping Venezuela Find Uranium Deposits
Venezuela bans "Family Guy"
"Chavez orchestrated Zelaya's return"
Stirring up chaos inside Honduras: 15 Minutes on Latin America
Meanwhile at the UN
Special thanks to the Baron, Bill, Dick, Eneas and Maggie