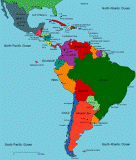 Welcome to the Carnival of Latin America and the Caribbean.
The big stories of the week:
The judge of the Chevron-Ecuador lawsuit (the largest lawsuit in history) reclused himself after damning videos showed him in a bribery situation.
Brazil and France sign huge defense deals involving the building of 36 fighter jets and nuclear technology.
Hugo Chavez travels through Libya, Syria, Iran, Algeria, Belarus and Russia, and hints at a nuclear Venezuela.
LATIN AMERICA
Bring order to arbitrary acts
Castro, Morales, Nyerere named official UN heroes
ARGENTINA
¿Kirchner gana o pierde poder con más confrontación?
BOLIVIA
Evo reitera que llegó al poder "para toda la vida"
BRAZIL
Brazil's oil policy: Preparing to spend a "millionaire ticket" from offshore
The government has unveiled plans to give the state the lion's share of the money from vast new oil discoveries. Will this wealth be invested or squandered?
Brazil's nationalistic move to up oil stakes angers critics
COLOMBIA
Backed Into a Corner
Term limits in Colombia: Closer to Uribe 3.0
But the courts could still block it
CUBA
Yoendri Márquez Moya, Cuban Political Prisoner of the Week, 9/6/09
UN Crowns Fidel Castro "World Hero"
U.S. Lifts Almost All Curbs on Family Visits to Cuba
Via Andrew, Prison walls in Cuba
U.S. scholarships get Cuban college students expelled: A group of Cuban college students who were offered U.S.-funded scholarships were instead blacklisted or kicked out of school.
Did Andrew Zimmern Gloss Over 'Bizarre World' of Cuba?, and Why do Cubans have to resort to eating RATS?
Yet Again, a Musician Endorses Castro
ECUADOR
Ecuadorean Judge Steps Down in Chevron Amazon Suit
Judge Núñez admits he needs to step aside; Amazon Defense Coalition proven wrong
Ecuadorian Judge Juan Núñez, the judge presiding over the Chevron environmental lawsuit in Lago Agrio, made the decision Friday to recuse himself from the case. Chevron has maintained that no judge who has participated in the type of meetings shown in the video recordings (released earlier in the week) could possibly have rendered a legitimate decision.

Transcripts of a meeting recorded on June 5 clearly show the judge has prejudged the case even though evidence was still being submitted and final arguments have not been held. And the judge was willing to talk about that decision with businessmen (Hansen) seeking post-verdict remediation contracts.
Swine flu fells Ecuador president's security chief
Toxic Revenge
A $27 billion lawsuit against Chevron won't clean Ecuador's dirty slate.
GUATEMALA
Bienvenido al mundo de los locos
HONDURAS
Zelaya, a Chavez Sympathizer was NO Friend of America
Obama's Honduran mistake, Part Two
Obama punishes small country because its courts opposed dictatorial ex-president's return to power
Clinton to meet Zelalya Thursday on Honduras situation
Honduras: A Truth Stranger Than Fiction?
Why Honduras matters more and more
Hillary v. Honduras
The Obama administration declares it won't recognize the results of a free and fair election.
MEXICO
Mexico's health care lures Americans
Calderon Changes His Cabinet, Not His Policies
NICARAGUA
Liberty Torch Passed From Zelaya to Ortega
PUERTO RICO
Caribbean islands crack down on illegal immigrants
VENEZUELA
Chavez to Ahmadinejad: Jesus and the Mahdi Will Come Soon
Noam Chomsky in Venezuela: 'A better world is being created'
Oliver Stone 'Warmly Embracing' Hugo Chavez in Blame America Doc
Venezuela's oil policy: A sticky proposition
Take a tiny bit of it, or leave it
Richard Blanco's Death Sentence
Chávez y Ahmadinejad apoyarán "los frentes antiimperialistas" (+ Fotos)
Lingering shutdown in refineries lowers inventories
Expansion of Cardón refinery has taken more than 200 days; El Palito continues on standby
Engel hits Chavez on Israel attack
The magic of Venezuelan mathematics (LXXVIII)
No Mas Chavez: the fall out in Venezuela
América Latina reacciona contra Chávez
IMMIGRATION
Mexico Denounces Growing Intolerance Toward Mexicans in U.S
Special thanks to Ada, the Baron, Dick, Eneas and Maggie.
This week's posts and podcasts:
Hugo goes to Venice UPDATED with photos
VIDEO Honduras: Micheletti at No Más Chávez demonstration, & reaction to the US State Dept's action
Today is Global Anti-Chavez Day UPDATED
Hugo Goes on Tour: 15 Minutes on Latin America
Uribe gets his amendment, and other headlines: 15 Minutes on Latin America
VIDEOS: Chevron Offers Evidence of Bribery Scheme in Ecuador Lawsuit
At Real Clear World:
Hugo and Mahmoud, Best Friends Forever!
U.S. Suspends Foreign Aid to Honduras