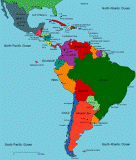 Welcome to the Carnival of Latin America and the Caribbean.
This week's big news: The State Department appears to have backed away
from its call to restore ousted Honduran President Manuel Zelaya to power and instead put the onus on him for taking "provocative actions" that polarized his country and led to his overthrow on June 28.
As Monica Showalter of of Investors' Business Daily put it, Honduras won. Zelaya had been visiting Mexico last Friday but left quietly after he was denied access to the media. In turn, yesterday President Obama waffled right ahead and said that
the US has been very clear that they believe Zelaya was removed from office illegally and that he should return to power. The administration has said in the past though that the US will not take unilateral action in the region .
Apparently the State Department's and the President's respective hands don't know what the other one is doing.
Hugo Chávez threatens war with Colombia (see links below under Colombia and Venezuela). Haven't we heard that before?
CARIBBEAN
Commentary: China's Policy Paper on Latin America and the Caribbean
LATIN AMERICA
Jackpot Justice Goes Global
U.S. Plan Raises Ire in Latin America
Troops, Planes Would Use Colombian Bases in Anti-Drug Effort
The North American summit: Reluctant partners
A messy ménage à trios
ARGENTINA
Argentinians are forming a tango party: Partido Político Tango. Their website states,
On Tuesday June 30, 2009, the process to legalize the Tango Political Party was submitted to the Argentinian Electoral Chamber
A party to party?
Un video muestra el momento en que hacen explotar la bomba en LAN
Fue tomado por las cámaras de la empresa. Un grupo chileno se adjudicó el atentado a través de Internet. Lo hicimos "para demostrar nuestro odio al Estado chileno", afirmaron.
Argentina's meaty diet: Bife de lomo, or bean sprouts?
The discreet rise of vegetarianism in the carnivorous capital of the world
BOLIVIA
Bolivia in Colombia Betrayal Jibe
BRAZIL
Brazilian Court: Extradite Cordero
COLOMBIAColombia between rock and hard place
Colombia and its neighbours: Bazookas and bases
Álvaro Uribe tries to convince South America that the FARC is the real threat
COSTA RICA
Rioting Breaks Out Against Tolls In Santa Ana
Cable TV Companies At War With CNFL And ICE
Heredia – San José Train At "Toda Maquina"
CUBA
Via Gateway Pundit, Cash-strapped Cuba says toilet paper running short
EEUU favorece concierto de Juanes en La Habana
Just in time for Cuba's toilet paper shortage
SIMMONS: Cuban spies exploit 'Sister City' program
Cuba's penurious revolution: When two plus two equals three
The promise of reform and renewal stalls under Raúl Castro
ECUADOR
Ecuador to Boost UNASUR Strength
Iranian Foreign Minister Manouchehr Mottaki in Ecuador to cement ties
Honduras prohibits visit of OAS crisis negotiators
Ecuador's president vows leftist push in new term
Ecuador's Correa Aims For "Citizens Revolution" In 2nd Term
GUATEMALA

HONDURAS
Honduras Has Won
U.S. shifts tone on Honduran overthrow
The Obama administration has backed away from its call to restore ousted Honduran President Manuel Zelaya to power and instead put the onus on him for taking "provocative actions" that polarized his country and led to his overthrow on June 28.
The new position was contained in a letter this week to Sen. Richard Lugar, R-Ind., that also rejected calls by some of Zelaya's backers to impose harsh economic sanctions against Honduras.
While condemning the ouster, the letter pointedly failed to call for Zelaya's return.
People that were never meant to be president of a country, even as small as Honduras
Today we learned that Zelaya was all but expelled from Mexico after having been received with all the honors due to a head of state. In fact, the presidential guard did not allow Zelaya to speak with reporters before leaving and all but forcibly packed him and a plane to ship him back to Managua. What happened?

Well, big mouthed Zelaya thinking he is some Chavez wanna-be went to a pro-Obrador meeting and implied that you do not need to be the sitting president to feel like the real president. Calderon was not amused, the more so that Obrador party was trashed, TRASHED, by the Mexican voters at midterm elections, tied in large part of the never ending Obrador circus, a sore loser if ever there was one.

Understandably Calderon, who had to endure the rudeness of the Obrador sabotage for three years, a sabotage that certainly weakened him as he had to face real daunting tasks from drug warlords to influenza pandemic, probably making matters worse than what they should have been, was not amused that Zelaya, who he has been backing fully, who he has invited and probably paid for every expense, who received him with all the honors due a sitting head of state as the sternest possible rebuke Mexico could give to the Honduras de facto government, went to support the loser and saboteur of Obrador. Zelaya was promptly dismissed and can forget about further help from Mexico.

Another case of truth being stranger than fiction.

But we also learn a lot about Zelaya. That he is a lout. That he is arrogant. That he thinks all is due to him. That he cannot be bothered with doing elemental home to know his host quirks. That Hondurans were, well, maybe right in kicking him out as Zelaya is clearly unfit to be president of anything. This single incident almost by itself validates the Honduras coup even though probably nobody will make a big fuss out of it. After all Zelaya is like a candle burning itself down faster and faster. Why rock the boat? We are already in August, elections might be as early as late October in Honduras….
Zelaya llega a Nicaragua, tras abandonar México en silencio
The U. S. Should Emulate, Not Censure, Honduras
The FARC's Honduran Friends
A chavista government in Honduras would raise the cost of the "war on drugs."
Honduras accepts OAS chief as 'observer'
MEXICO
Obama Arrives in Mexico for Start of Summit
Obama's Mexico Agenda: Trucks, Tariffs and Swine Flu
Leaders Gather to Plan Swine Flu Response, Fix Costly NAFTA Spat
NICARAGUA
Nicaragua's Miskitos seek independence
PERU
Alan Garcia expreso su apoyo a Alvaro Uribe
PUERTO RICO
Archaeologists find major pre-Columbian sites in Puerto Rico
VENEZUELA
Divergencias hunden ley sobre delitos mediáticos
10 people injured in Puerto La Cruz as Chavista cops and supporters attack protesters
From the depths of the revolution's stupidity
PDF file: Assessing the Iran-Venezuela relationship
Venezuela to buy Russian arms, tanks: Chavez
Does The Guardian know about Calvin Tucker?
Venezuela's media crackdown: Switched off
Moving towards monologue
Thanks to Ada, the Baron, Dick, Eneas, Leslie, Maggie and M.
This week's posts and podcasts:
No sanctions for Honduras: 15 Minutes on Latin America
Chávez: Israeli Foreign Minister "a thug", claims Colombia is ready to attack Venezuela
Padre Alberto's church wedding
About that "excellent free Cuban healthcare"…
Dickipedia on Chavez