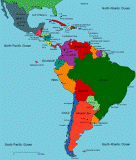 Welcome to this week's Carnival of Latin America and the Caribbean.
The big news this week: Chavez's war against freedom of expression, and his closing 34 radio and TV stations in the country.
BREAKING NEWS: As I posted this, Lina Ron y grupos afectos al gobierno atacaron sede de Globovisión Noticias 24 reports that Globovisión's headquarters has been attacked with tear gas. Here is Globovisión's live Ustream podcast and Twitter feed, and YouTube video,
Chavez Supporters Ramp Up Attacks On Venezuela's Globovision
group from a political party aligned with President Hugo Chavez Monday stormed the headquarters of Globovision, a news network that is facing a mounting offensive by the government that could shut it down.

About 35 people riding motorcycles and wearing flags from Union Patriotica Venezolana (UPV), a political party that supports Chavez, entered the network's headquarters threatening personnel with guns and throwing tear gas, Globovision workers said in interviews broadcast by the news channel.

Images from security cameras transmitted by Globovision showed the men surrounding the channel in their motorcycles, wearing UPV flags on their backs and throwing devices that appeared to be tear gas.

Interior Minister Tarek El-Aissami said the government "energetically rejects" any violent actions. He said the government would take measures against the perpetrators of the attack regardless of who they were.

The images broadcast by Globovision show a woman the network says is Lina Ron, a UPV leader and a radical Chavez supporter. In the past, Ron has appeared side by side with Chavez at mass gatherings and participated in joint press conferences with the top brass of the president's socialist party.

In February 2008, Ron led a group that stormed the episcopacy in Caracas after leaders from the Catholic church criticized Chavez. The president at that time condemned Ron's actions, though months later appeared with her in political rallies.
Also don't miss Pajamas TV's exclusive interview with Honduran President Micheletti on Hugo Chavez, Cocaine & American Media. While you listen to the interview, bear in mind that deposed president Zelaya has declared that he will continue to change the Constitution upon his return
LATIN AMERICA
The New Republic
D'Escoto Inferno by James Verini
Meet the Sandinista who runs the United Nations
Crisis Tests Relevance of Americas Group
Obama's Kerenskyism, Honduras and the Chavist Abyss
At the Economist: Clarification: Bolivia and Venezuela
In our recent story on Bolivia ("The permanent campaign", July 18th), we stated that "Venezuelan troops helped quell a rebellion centred on the airport at Santa Cruz in the east in 2007". Both the Venezuelan and Bolivian governments deny this (see Letters), and Venezuela's government has publicly asked us to retract this assertion. We based our statement on television footage aired at the time which shows a Venezuelan air force plane and uniformed Venezuelan personnel at Santa Cruz airport shortly after it had been seized by the Bolivian government from the local authorities. No official explanation has been given for their presence. However, we are happy to clarify that this footage does not prove Venezuelan troops played an active role in quelling the rebellion. We have placed the television footage on our website.
The 7 countries that are pissed at Obama (economics edition)
Bodas de sangre
ETA y las FARC están aisladas y debilitadas, pero comparten complejos intereses
Desperately Calling Romulo Betancourt
ARGENTINA
Fuga de capitales en Argentina por valor de 7.860 millones, Capital fleeing Argentina totals over $11 million US dollars.
BRAZIL
Report: Brazil official calls Israeli FM 'fascist'
Las Cifras de la narcocampaña electoral de Evo Morales
COLOMBIA
Uribe Won't Attend Meeting on U.S. Army Basing, Espectador Says
COLOMBIA-VENEZUELA: Conflict Heating Up – Again
Affirmative action in Colombia: Debating quotas
Black Colombians suffer "structural discrimination"
CUBA
What will they do with the flags?
'Back to the land' means back to the plow
ECUADOR
Ecuador sees ties between Correa's ex-aides and FARC
El dinero perdido de las FARC
Documentos de la guerrilla colombiana reflejan la entrega de 400.000 dólares a la campaña de Correa – El presidente de Ecuador niega haber recibido esos fondos
Líder republicana pide averiguar los nexos de Correa con las FARC
HONDURAS
Handling of Honduras crisis flawed from the start
Connie Mack reports on Honduras
Insulza: My record on the theme of democracy is absolutely impeccable!
Honduras: De Facto Leader Rejects Part of a Deal
Regional leaders discuss Honduras
Zelaya's diabolical plan for June 28, 2009
Honduras's Conservative Awakening
Why does Obama support Zelaya?
Perhaps a bit of sympathy for socialist solutions . . .
German Militarism rearing it's head regarding Honduras?
Post-coup Honduras: Time on whose side?
Ratcheting up the pressure on Roberto Micheletti's de facto government
'We Will Not be Brought to Our Knees'
In a SPIEGEL interview, ousted President Manuel Zelaya, 56, discusses the coup in his native Honduras, the lack of intervention from Washington, his political ties to Venezuelan President Hugo Chavez and his hopes to unseat the regime by peaceful means.
A fan of Zelaya sent this post, Honduras: The Future is in the Air
MEXICO
Fear and Death in a Mormon Town in Mexico
NICARAGUA
Latin America File: Nicaraguan FM: "Historical" continuity of relations between Managua, Moscow; Ortega: Honduran coup leaders "opened up battlefield"
PUERTO RICO
Masterworks From Europe, via Puerto Rico to Greenwich
VENEZUELA
Venezuela Still Aids Colombia Rebels, New Material Shows
Back to the future: experiencing what is coming our way in Venezuela
Israel: Venezuela Providing Fake Documents to Iranians
Israel dice que Chávez coopera con ala radical del islam
European building giant rejects Caracas compensation
What Maletagate, the FARC's Swedish rockets and our freedom in the future have in common
Chavez Closes Down Broadcasters in War Against Venezuela Media
IMMIGRATION
US: Illegals Freed From Dictates Of ObamaCare
BOOK REVIEW
"El Canalla: La verdadera historia del Che" por Nicolas Marquez
Special thanks to Ada, the Baron, Dick and Eneas.
This week's posts and podcasts
Chavez closes 34 TV & radio stations
Venezuela shuts down 34 radio and TV stations, UPDATED
The FARC's Swedish rocket launchers
Zelaya will continue to change the Constitution upon his return
Chavez's war against the media: 15 Minutes on Latin America
Is Obama doing Zelaya's bidding? and other questions on Honduras
At Real Clear World:
Venezuela: Chávez's War Against Free Speech
Rocket Launchers Sold to Venezuela Went to FARC