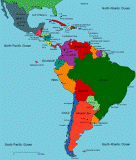 Welcome to the Carnival of Latin America and the Caribbean. Among the big news this week, Hugo Chavez is visiting his friend Muamar Gadafi in Libya, Oscar Arias wants to extend his term, and the US continues to pressure Honduras to reinstate Zelaya.
LATIN AMERICA
Kicking Bolivarian butt in Bariloche
Chávez's Covert War
Obama needs to call Venezuela's president what he is: a terrorist and a drug-trafficker.
Strategic Challenges in Latin America
Buenos Aires y Río de Janeiro compiten por ser el "Mejor destino gay del mundo"
BOLIVIA
Bolivia's Planning Stifles Development
BRAZIL
Latin American Journalists Face New Opposition
COLOMBIA
Colombia says president has swine flu
COSTA RICA
Costa Rican President Calls for New Constitution
CUBA
Gumshoes wanted, preferably educated
Rep. Watson: Che and Fidel were right to 'kick out the wealthy'
ECUADOR
Chavez and Correa: Dual Suspension (of Freedom)
HONDURAS
La ONU viola la Declaración de Principios del Derecho Internacional
Interview with Honduras Supreme Court President Video here
17 Honduran Diplomats Removed For Support Of Democratic Process In Honduras
New Honduran blog, El pergamino de la derecha
Taiana to visit Honduras with OAS delegation
OAS, US, UN pile on Honduras: another important story being smothered by the media
Honduras makes Zelaya an offer he can't refuse
PANAMA
Traffic Accident in Panama: What You Must Know and Do
VENEZUELA
Chávez ya llegó a Libia como parte de su gira para "fortalecer alianzas" Chavez in Libya, on the eve of celebrations to mark 40 years of Moamer Kadhafi's rule.
Financial Times: Fears over Chávez threaten oil auction
Venezuela's Assault on Freedom of the Press and Other Liberties
BRAVE VENEZUELANS PROTEST CHAVEZ EFFORT TO TURN PUBLIC SCHOOLS INTO SOCIALIST INDOCTRINATION CAMPS – CHAVEZ COUNTERATTACKS WITH TEAR GAS!
Venezuela Price Rises Mean that Caracas is Now More Expensive than London
Special thanks to the Baron, Dick, Eneas, Maggie,
This week's posts and podcasts:
Obama vs Honduran Democracy
Global Anti-Chavez Day
U.S. moves toward formal cut off of aid to Honduras UPDATED
The fashionable traveling tyrants
Chávez's manipulation, Chávez's repression: 15 Minutes on Latin America
US to Reduce Visa Services In Honduras: 15 Minutes on Latin America
US to Reduce Visa Services In Honduras
At Real Clear World:
Honduras Rejects Zelaya Deal, Reasserts Sovereignty