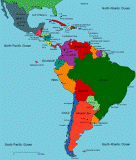 Welcome to the Carnival of Latin America and the Caribbean.
Today I join the bloggers advocating the release of political prisoner Dr. Oscar Ellias Biscet. As you know, Dr. Biscet's activism started when he saw how newborn children were murdered in Cuban hospitals. He is being held in inhuman conditions. Bloggers around the world are demanding his release.
Here is this week's Carnival:
LATIN AMERICA
Revolution Fatigue: Events in Honduras and Argentina point to a continent weary of socialism.
Latin America's economic forecast good but not good enough
Hugh Hewitt: Obama's Armada founders in high political seas
Israeli FM off on diplomatic tour of Americas
Remind me: which part of OAS is a champion of democracy and which part is golpista again?
BOLIVIA
Bolivia's divisive president: The permanent campaign
Evo Morales is a popular president, but his brand of politics is dividing his country
CHILE
Transantiago: BRT (Bus Rapid Transit) en la Alameda? (in Spanish)
COLOMBIA
US military presence in Colombia would expand with deal for greater use of air, sea bases
CUBA
Suspension of a Helms-Burton provision stirs flurry of confusion in Spanish media
ECUADOR
Correa Says Commission Will Investigate Alleged FARC Influence
Base Aerea de Manta ha posibilitado la decomisacion de 1600 toneladas de drogas ilegales
US anti-drug force flies last flight from Ecuador
French oil firm Perenco leaving Ecuador
GUATEMALA
One summer day in Antigua, Guatemala
HONDURAS
EU suspends $90m aid to Honduras
The U.S. Steers Left on Honduras
Why would Hugo Chavez expect Obama to help him?
Guatemalan, Salvadoran, Nicaraguan enemies already inside Honduras waiting for Zelaya's return
Honduras rompe paradigma en America Latina
A conversation with Jose Miguel Insulza
Israel, Iran, Honduras, and Obama's hypocrisy
Via Ace
JAMAICA
You can't deport me, I'm a lesbian: Jamaican drug dealer makes human rights plea
MEXICO
New escalation in Mexico drug war
So Much For A Fence Won't Work
Mexico and the disabled: Lending a hand
Help for the handicapped can be a way of helping everyone
The chronic Mexican brain drain: Anualmente emigran cinco mil profesionistas
Los egresados optan por viajar a países como Canadá, Francia, Argentina, Chile y España, en busca de mejores oportunidades de desarrollo y mayor calidad de vida
PANAMA
David Gas Priced July 19, 2009
PERU
Fujimori convicted of corruption
The Half-Year That Was: Bloodshed in Peru
Peru's reshuffled government: Playing for time
An unpopular president looks to new ministers
VENEZUELA
The state of chavismo
Troops seize opposition-controlled police station in Venezuela, 8 injured in protests
According to Venezuela's People's Ombudsman soaring crime is just a "sensation" created by the media
United By Hate
The uses of anti-Semitism in Chávez's Venezuela
ENTERTAINMENT
Jaime Bayly on Chavez's psychological warfare against Honduras (in Spanish):

Special thanks to Ada, the Baron, DJOS, Eneas and Maggie.
This week's posts and podcasts:
Hunter Smith talks about Honduras
Honduras: Zelaya moves his "ultimatum" to July 24
Zelaya: "I'm going back" – sometime.
BREAKING: FARC leader admits giving money to Ecuador's Correa
Chavez: Zelaya to return to Honduras "in hours" UPDATED
Honduras: Zelaya says he's on his way back
Honduras: Zelaya gives an ultimatum
Honduras: Curfew lifted
As you can appreciate, Zelaya's all talk.
At Real Clear World:
Nicaragua: Look Who Wants A Referendum?
Venezuela and Cocaine