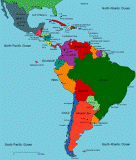 Welcome to this week's Carnival of Latin America and the Caribbean.
All of the week's top stories involved the FARC:
LATIN AMERICA
Ecuador, Colombia and the FARC: From the guerrilla's mouth
Mistrust deepens between neighbours
The White House's Latin Connection: Is Greg Craig driving U.S. Latin America policy?
Green NGOs: UnderMining Prosperity
ARGENTINA
Drug addicts
BOLIVIA
El Estado no tiene dinero para reactivar el rubro petrolero
BRAZIL
Brazil's Petrobras: Oil and revolution
Petrobras has vast oil reserves, commercial clout and excellent Chinese connections. But it faces political uncertainty
COLOMBIA
US use of Colombian bases fuels regional tension: analysts
CUBA
Dr. Darsi Ferrer Ramírez, Cuban Political Prisoner of the Week, 7/26/09 (UPDATED)
US Turns off News Ticker in Havana
ECUADOR
Ecuador's Correa asks FARC to validate thorny video
FARC Video Rocks Ecuador and Venezuela
HONDURAS
Honduran democracy and the rule of law
United States Revokes Visas For Four Honduran Officials
The Path Forward for Honduras: Zelaya's removal from office was a triumph for the rule of law., by Roberto Micheletti
Patricia Rodas: the woman who married Zelaya to Chavez?
MEXICO
A Success in Mexico
Mexico's drug gangs: Taking on the unholy family
The government has deployed thousands of troops against a sinister new mafia. But severing its many tentacles requires a much more agile state
PANAMA
If You Are a US Citizen Then
PUERTO RICO
Puerto Rico — the Next Red State?
VENEZUELA
Chavez temper tantrum #666: Hugo freezes Venezuela's relations with Colombia
Sweden Asks Venezuela for Information on FARC Weapons, AFP Says
Israel acusa a Venezuela de ofrecer documentos falsos a iraníes
The Tenth Anniversary of a Slap in the Face.
This week's posts and podcasts:
Zelaya today in the White House?
Honduras claims FARC is financing Zelaya
Zelaya ran away, he ran away…
Honduras: Is Zelaya heading to the border? UPDATED: He's back
At Real Clear World:
Nicaragua: Look who wants a referendum?