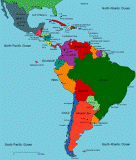 Welcome to this week's Carnival of Latin America and the Caribbean.
Honduras remained in the headlines. I have an extended post with updates from the weekend news coming up this evening. To read all prior posts on Honduras, click here
LATIN AMERICA
China makes its move as U.S. falls back in Latin America
Group of Eight Opens to Emerging Economies , namely Brazil, China, India, Mexico and South Africa.
The Washington Post and Ledezma: Double Standards in Latin America
ARGENTINA
No Tears For Them In Argentina
Swine flu in Argentina: Pigheaded policies
The dangers of a reputation for dodgy statistics
BOLIVIA
Venezuela's military will parade in Bolivia's Independence Day celebrations: Militares venezolanos desfilarán el jueves en Bolivia en las fiestas de la Independencia
BRAZIL
Brazilian Supreme Court Rules that Sex With Children Not Necessarily a Crime – Denounced by United Nations
Brazil's scandal-plagued Senate: House of horrors
What Britain's MPs might learn from Brazilian Senators
COLOMBIA
Colombia: Stick with term limits: Uribe should take a lesson from the dust-up in Honduras
Farc habrían comprado 20 misiles rusos capaces de impactar naves hasta a seis kilómetros de altura
CUBA
Should the New York Philharmonic travel to entertain dictators?
Cuban activist Darsi Ferrer, out of jail, describes police brutality
Social workers: the ephemeral body of action
Cuban leader visits ally Algeria ahead of NAM summit
ECUADOR
Ecuador Seeks $3 Billion for Amazonian Park Carbon Bonds Sale
HONDURAS
Post-coup Honduras: Enter the diplomats
Can negotiations reinstate Manuel Zelaya?
Viva la libertad (in English)
MEXICO
Mexico: Economics and the Arms Trade
Cartel Kills 5 in Attacks on Mexican Forces: Coordinated Ambushes Said to Be Revenge for Capture of a La Familia Leader
After Mexico's mid-term election: Calderón's hatful of troubles
The PRI's victory means that change in Mexico now depends more on the former ruling party than on the president
NICARAGUA
Iran's Invisible Nicaragua Embassy, and Ed Morrissey's excellent post pointing out that the issue is diplomatic presence.
PUERTO RICO
Family hails Sonia Sotomayor's Puerto Rican roots
According to Agence France Presse, more Puerto Ricans live in the continental US than on the island: Viven más puertorriqueños en EEUU que en la isla caribeña
VENEZUELA
On the power of blogging and Fiscal crisis watch
The Chavez Adventure in Honduras: From Coup d' Etat to Coup d' Grace?
OAS oddly silent on 'coup' in Caracas
Globovision talks to the Miami Herald:
Special thanks to Ada, the Baron, Eneas and Maggie.
This week's posts:
Honduras: UN's D'Escoto says Zelaya will be reinstated soon
Jonathan Sanchez: Near-perfect
Honduras: Estrada on Zelaya's removal
Illegal immigration in California: Where the costs are
Mexico: Economics and the arms trade
Honduras' Micheletti in Costa Rica
Today's update on Honduras: Arias to negotiate
At Real Clear World:
Michael Jackson Ahead in Mexican Protest Vote