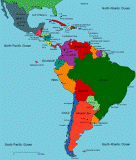 Welcome to the Carnival of Latin America and the Caribbean.
Honduras continued to be the top story in the region. Click here for my posts and roundups on this topic of the past eight days.
LATIN AMERICA
Peligroso respaldo latinoamericano a las ambiciones nucleares de Irán
ARGENTINA
Argentina's mid-term election
Walloped
The Kirchners lose a referendum on their rule
BOLIVIA
Crece la mafia de la cocaine
BRAZIL
Brazil's licensed thinker
A sage exits, maybe left
The government's in-house philosopher returns to Harvard
COLOMBIA
Colombia's Uribe OKs hostage mediation by senator
COSTA RICA
Costa Rica is world's greenest, happiest country
Latin American nation tops index ranking countries by ecological footprint and happiness of their citizens
For U.S. and OAS, New Challenges to Latin American Democracy
CUBA
Commentary: Cuba keeps ill writer jailed as Norway awards prize
Antonio Díaz and Ariel Sigler, Cuban Political Prisoners of the Week, 7/5/09
ECUADOR
US keeps preferred trade terms with Ecuador; Chevron rebuffed
Conservation in Ecuador
Trees or oil
An ambitious scheme to save pristine forest starts to take shape
HONDURAS
The Honduras cadena: chavismo propaganda at wits end?
¡Sí a la Democracia! ¡No a Manuel Zelaya!
The coup in Honduras
Defying the outside world
Hondurans are pleased that an old-fashioned coup has installed a new president; the rest of Latin America is appalled
Protestas a favor de Zelaya son financiadas
MEXICO
Mexico Election Results Are 'Negative" for Markets, UBS Says
Migrant smugglers turn to torture
Mexico's mid-term election
Tilting to the PRI
Felipe Calderón's battle for relevance
Mexico's ruling party is seen losing ground
NICARAGUA
Nicaragua: accusations of rigging elections and silencing media: Last week, armed men raided, shut down, and confiscated all the equipment of a small radio station whose owner is affiliated with an opposition political movement.
PANAMA
Economy taking its toll on restaurants
PUERTO RICO
Australian denies Puerto Rico sex charge
VENEZUELA
Worsening chronic poverty in Venezuelan households
According to the data provided by the official National Statistics Institute (INE), last year the poorest homes in the country recorded an average monthly income of USD 401.82, whereas the food basket amounted to 417.77
Petrobono 2011 operetta ends with a sleight of hand and a twist
Venezuela assumes control of Spanish-owned bank
Venezuela, pais de propietarios