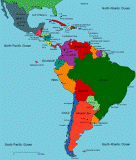 Welcome to the Carnival of Latin America and the Caribbean. This week's big stories: The Uighurs in Bermuda, the State Department spies for Cuba, and the aftermath of the Peruvian protests.
LATIN AMERICA
U.S. drug czar calls for end to "war on drugs"
Socialism wears poncho this time
ARGENTINA
Kirchner vs. The Press
Give government 'crisis' power and you won't get it back.
Argentine glacier advances despite warming
Perito Moreno withstands climate change but scientists aren't sure why
BERMUDA
Out of Guantánamo, Uighurs Bask in Bermuda
BRAZIL
Terrorist suspects were on doomed Air France plane
Two passengers with names linked to Islamic terrorism were on board the Air France flight which crashed and killed 228, it emerged today.
Pedagogy of the Oppressor
Another reason why U.S. ed schools are so awful: the ongoing influence of Brazilian Marxist Paulo Freire
The Amazon: The future of the forest
Brazil's government hopes that land reform in the Amazon will slow deforestation. Greens doubt it
Brazil's recovering economy: Ready to roll again
Among the last to fall into recession, Brazil may be among the first to grow out of it
Brazil stretching clout to Central America
CHILE
Valparaíso reviste sus Fachadas
COLOMBIA
Waste disposal in Colombia: Muck and brass plates
Entrepreneurs, not scavengers
CUBA
Former State Department Official and Wife Arrested for Serving as Illegal Agents of Cuba for Nearly 30 Years
Hilda Molina: "Castros not bad people"
Groups Say U.N. Panel Shutting Them Out of Cuba Rights Review
Chinese cars are on their way to Cuba
ECUADOR
Ecuador, A Democracy in Name Only
Region silent amid attacks on the media
Chevron fights Ecuador pollution lawsuit
Correa Says Ecuador to Review Other Debt After Bonds
MEXICO
Mexico Corruption Elicits Drug War Apathy
A Mexican family drug business
A Mexican Cartel's Swift and Grisly Climb
La Familia Defies Federal Efforts To Eliminate Its Influence
The Drug Lord Who Got Away
Mexican Capo Unleashes Mayhem on U.S. Border; The Making of a Legend
Mexican State Bans Cops From Carrying Cell Phones
PERU
Hugo Chávez contra Alan García
Peru silences radio station La Voz
Simon Romero has an excellent article on the protests: Protesters Gird for Long Fight Over Opening Peru's Amazon
Oil and land rights in Peru: Blood in the jungle
Alan García's high-handed government faces a violent protest
Alan Garcia Insinúa que Evo Morales influyó en protestas indígenas con sus "mensajes incandescentes"
'Many missing' after Peru riots
Narco-Terrorism in Peru: The Return of Shining Path
UnoAmerica denounces plot to overthrow the Peruvian government
PUERTO RICO
At Parade, Puerto Rico Shares Stage With Politics
VENEZUELA
Media in Venezuela; nobody seems to get the reality
The revolution never ceases to amaze
PDVSA Takes Control of Exterran Offshore Platform