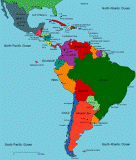 Welcome to the Carnival of Latin America and the Caribbean.
If you can only read one post from all the ones in today's Carnival, read this one: Taking note.
LATIN AMERICA
Central America's Failing States
Roundup: In and About the Hemisphere …
ARGENTINA
Argentina's mid-term election: The glass empties for the Kirchners
Recession and political mistakes by the first couple point to a change in the balance of power. But will Argentina at last acquire a more coherent opposition?
Polémica entre la doctora cubana Hilda Molina y Madres de Plaza de Mayo
BERMUDA
Bermuda Premier Escapes Censure Over Uighurs
BOLIVIA
Peru-Bolivia: Hanging by a Thread
Bolivia Becoming a Hotbed of Islamic Extremism, Report Concludes
BRAZIL
Will Brazil do the right thing?
American boy held there by stepdad after mother dies
Air crash autopsies rule out terrorism
Slideshow: Faces of the favelas
CHILE
Un Nuevo Puerto para Chile, Constitución 2.0
Augusto Pinochet–Some Perspective
CUBA
A fine day in Geneva, with Che's ghost
Next, they'll be checking for homing pigeons.
New York Times Editors Find Spying "Romantic" and the Story of Traitors Spying on the United States a "Romance" That Reads "Like a Novel
Un gobierno dedicado al espionaje
Cuba's meager food rationing gets worse: Cuba reajusta la canasta básica de alimentos por la crisis
Che's Granddaughter as PETA Model
DOMINICAN REPUBLIC
A demand for government to explain Refidomsa sale
The idea is to include the Refinery within a network of plants built by Venezuela
ECUADOR
The FARC's Ecuadorean Friends
It's time to reaffirm the U.S. commitment to Colombia.
HAITI
South Florida Congressional Delegation Visits HaitiMEXICO
Kidnappers free rancher related to former U.S. presidential candidate Mitt Romney
Mexico's drug war: All in the family
Suspicion falls on politicians
The Real 'Casa' Louis Vuitton Is in Mexicali, Not Paris
PARAGUAY
YO TAMBIÉN SOY HIJO/A DE LUGO
PERU
Peruvian blood
Campesinos del sur de Perú mantienen paro de diez días
UnoAmerica denounces plot to overthrow the Peruvian government
PUERTO RICO
Lone man robs Puerto Rico hotel-casino: Walked out with $340,000.
VENEZUELA
Venezuela's oil-dependent economy: Socialism on the never-never
Hard times on the streets of Caracas
Chavez backs Ahmadinejad in dispute
Globovision pays its fine? Double it!
The robolution is stealing Venezuela
Special thanks to the Baron, Eneas Irish Spy and Maggie.
This week's posts and podcasts:
The continuing saga of the traveling Uighurs
Lugo appeals court order for DNA test
José Ignacio García Hamilton
"A fine day in Geneva, with Che's ghost"
Uighurs in paradise
Tony [hearts] Claudia
At Real Clear World:
Chavez Reaffirms His Support for Ahmadinejad
Chavez "helping out" Ahmadinejad?
UPDATE
Welcome, Dodgeblogium readers. Please visit often.