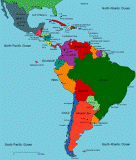 Welcome to the Carnival of Latin America and the Caribbean.
Many important news in the region this week, including a new agreement on nuclear development between Cuba and Russia, new ties between Iran and Paraguay, and Chavez's cash crunch. Scroll down for all these, and more.
LATIN AMERICA
Ahmadinejad defends presence in US backyard
A Time of Reckoning for the Poor
Drug gangs in Canada: British Columbia or Colombia?
Organised crime brings fear to Vancouver's streets
ARGENTINA
Argentina's farming in crisis: Parched earth, empty barns
Don't get mad, get organised, battered farmers conclude
BOLIVIA
Bolivia Confirms Plans to Explore for Uranium
Evo Morales, The Mugabe of the Andes?
BRAZIL
'Homophobic' Christian TV on the outs in Brazil?
CHILE
What Norway and Chile can teach America
Chile's coming presidential election: Winds of change
The Concertación is disconcerted
COLOMBIA
Insulza opina que el conflicto en Colombia debería negociarse
CUBA
A Look at Cuba Before Its Destruction By the Castro Regime (Video)
How to help the internet revolution in Cuba.
Judge awards $1 billion to man in suit against against Fidel Castro, Che Guevara
Over 100 leaders ask he U.N. to not reelect the island to the Human Rights Council
Veggies rot in sun; inept pickup blamed
Russia praises Cuba for atomic research
ECUADOR
Iran May Inherit U.S.-Taxpayer Built Military Facility in South America
Via Astute Bloggers, 'No Good Deed Goes Unpunished' (Part 1 of 2)
Ecuador Pays 35 Cents for Defaulted Bonds in Buyback
Ecuador saves $252 million swapping oil for products with Venezuela
Ecuador's Correa says AT&T, Sprint, MCI owe fees
GUATEMALA
Insanity in Guatemala: Rosenberg case
MEXICOMexican trains, trucks hijacked in new crime wave
New rules to impact U.S.-Mexico border
Mexico's deep recession: Not made here
It is little consolation to Mexicans that the slump is not their fault this time
PANAMA
Panama Canal Expansion Under Way
PARAGUAY
Iran: Tehran looking to strengthen ties with Paraguay
PUERTO RICO
In Puerto Rico, Supreme Court Pick With Island Roots Becomes a Superstar
VENEZUELA
Chávez's Cash Crunch
Will Uncle Ben and the Fed help him out?
Chavez: Venezuela could leave OAS, join Cuba
Independent Institute Fellow Victim of Chavez's Abuses
RELIAL Celebrates its Annual 4th Congress in Caracas
13 signals of cessation of democracy in Venezuela
Embajador critica la imagen que da diario francés de Venezuela Here is the original article, Venezuela : la fuite en avant d'Hugo Chavez, par Jean-Pierre Langellier, and Daniel's post Paris: Le Monde blasts Chavez
Venezuela's missile purchases could go to FARC
Missile buildup in Venezuela has U.S. on edge
Venezuela's recent weapons-buying binge has stoked U.S. fears that portable missile launchers could end up in the hands of Colombia's FARC rebels.
This week's posts and podcasts:
Chávez chickens out
More Alvaro in Venezuela
Today's podcast at 11AM Eastern: Mario Vargas Llosa detained at Caracas airport
Mario Vargas Llosa detained at Caracas airport
Andres Velasco's plan: Save for a rainy day
Álvaro detained
Brazil arrests high ranking al-Qaeda spy
At Real Clear World:
Venezuela: Chávez's Persecution, and No Debate
Israel: Venezuela and Bolivia Providing Iran with Uranium