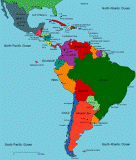 Welcome to the Carnival of Latin America and the Caribbean.
ANTIGUA
Stanford asks judge for order to get records from receiver
ARGENTINA
Judge Refuses Bail to Buenos Aires Antisemites
BRAZIL
China, Brazil sign $10 billion loans-for-oil deal
Chavez looks to borrow from Brazil
Brazil's Supreme Court: Where less is more
Reforms improve the judicial system
CAYMAN ISLANDS
Tax and the Cayman Islands
Grey skies in the Caribbean: The taxmen circle the white beaches
CUBA
Blogger "sit-in"
Voice of freedom from Cuba's gulag
Juan Luis Rodríguez Desdín, Cuban Political Prisoner of the Week, 5/24/09
Did NewsBusters Help Cause Cuban Government to Back Down on Internet Prohibitions?
Jaime Bayly (in Spanish) talks about Spanish tourists going to Cuba instead of Mexico because of fear of swine flu:
ECUADOR
Correa sees, Correa does
Chevron Battling $27 Billion Lawsuit in Ecuador
Ecuador, Chevron and pollution: Justice or extortion? The hounding of an American oil company
GUATEMALA
Crime and politics in Guatemala: An indictment from the grave:
A murder foretold has convulsed Guatemala's government. Its investigation will provide a test of whether or not Central America includes a failed state
HONDURAS
Nike targeted for Honduran labor abuses
MEXICO
A Grim View of Mexican Politics
Today's video: see no evil, hear no evil
PARAGUAY
Notable Quotables: Lugo on celibacy
PERU
Peru's worst nightmare: Ollanta Humala
HACER's video (in Spanish) talking on Peru and Cuban myths:
PUERTO RICO
More on Acevedo Vila's croneys:
Five Defendants Sentenced In Puerto Rico Corruption Case
TRINIDAD-TOBAGO
More pressure on Trinidad and Tobago president to resign
VENEZUELA
Venezuela again in the news, as Chávez closes Globovisión, and takes over more sectors of the economy.
Government closes Banco de Venezuela deal, another billion US dollars down the drain
Venezuela's Hope of More Sway Dims as Riches Dip
Solidaridad con la resistencia del pueblo chavista
AMERICAN POLITICS
Obama math
This week's posts and podcasts
Israel: Venezuela and Bolivia providing Iran with uranium
Obama's silence on Chavez: Is Silence Consent?
Tourism in Cuba? 15 Minutes on Latin America
Disloyalty is costly for Hugo Chávez backers
Colombian senate agrees to Uribe referendum
At Real Clear World:
Third terms: No in Brazil, Maybe in Colombia
Special thanks to Eneas.