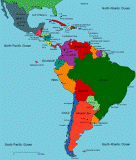 Welcome to the Carnival of Latin America and the Caribbean. If you would like your links included in the next Carnival, please email me.
The top story: The murder of Guatemalan lawyer Rodrigo Rosenberg. Check out the links below, particularly Mary O'Grady's excellent article on the ProReforma project.
(For posts on Padre Alberto click here)
LATIN AMERICA
Via Dymphna, The growing Afghanization of Latin America
ANTIGUA
Stanford Bank's Antigua receivers can seek bankruptcy in US
ARGENTINA
¿El principio del fin de la "era K"?
Argentina: Shiny, Happy Jews Brutally Beaten at Street Fair
Argentina's legislative election
Double or quits: The Kirchners' electoral gambit
BOLIVIA
Standoff between Evo Morales and media outlets escalates
Bolivian Court Orders Arrest of Fugitive Officials
BRAZIL
Brazil and China eye plan to axe dollar
CARIBBEAN
BBC Caribbean report (audio)
COLOMBIA
Will Uribe change the constitution and run again? The Economist says "yes," while a member of his cabinet says "no:"
Presidential re-election in Colombia: Uribe edges towards autocracy
A popular president seems to be heading towards a third term, despite the damage this would do to democracy
Tiene la "intuición" de que Uribe no buscará una segunda reelección
CUBA
Wanted: Cambio We Can Believe In
Things are getting better in Cuba
U.S.-Cuba Sanctions: Bitter Pill, Good Medicine
ECUADOR
Is the Obama administration condoning Ecuador's default?
In Ecuador, Resentment of an Oil Company Oozes
Correa and U.S. Democrats Must Quit Claim its Specious Lawsuit, Correctly Called an Extortion Racket, against Chevron Texaco
GUATEMALA
Guatemala murder scandal deepens
Ni familiar, ni amiga, ni complotista… ni apatrida
Finally, a Real Revolution
A civil-society movement emerges in Central America.
HAITI
Bill's new gig: Clinton to be named UN special envoy on Haiti
MEXICO
Mexican Bank Pays $355,340 Above Cost in Dollar Sale
Mexicans fear America is becoming the land of unemployment not opportunity
In good years, the US runs on Mexicans but the American Dream is losing some of its most devoted fans, says Tom Leonard
Bolivia estudia demandar a Perú ante La Haya
URUGUAY
Mario Benedetti: Retrato Critico
VENEZUELA
The Chavez bubble: The increasing probability of the country's default
Chavez Seizes Oil Infrastructure
Pro-Chavez Web site Features Anti-Semitism
Unintelligent Design: Chavez and PDVSA
No more separation of Church and State in Venezuela
Venezuela's oil industry
Skint: Expropriating accounts payable
Vargas Llosa: "Desde luego que en Venezuela expondré mis ideas"
Radical OPEC members cheat the most
Así, así, así es que se gobierna…
The week's posts and podcasts
Brazil and China eye plan to axe dollar
Benedetti and the south
Guatemala: The Twitter arrest and the Rosenberg murder
"The rich are not human" and Globovision's troubles: 15 Minutes on Latin America
Guatemala and the Rosenberg tape
Guatemala: The Rosenberg video
"No progress" at EU-Cuba meeting
At Real Clear World:
Guatemala: The strange case of Rodrigo Rosenberg